"Some of the best
bizarre film commentary
going... with sharp, no-nonsense verdicts."
- Manohla Dargis,
The Village Voice

"One of the few
review zines you
can actually read
and learn from...
You need this."
- Joe Bob Briggs

"Plenty of well-informed film reviews... Wildly opinionated."
- Film Threat

"The magazine
every movie fan
needs to read."
- E! Online

"Shock Cinema is like riding the A train in the summer from the George Washington Bridge to the Deuce to see "Bucktown."
This is the only
magazine I can
totally relate to."
- William Lustig, director of MANIAC,
UNCLE SAM
Need additional
information?
E-mail us at:
ShockCin@aol.com


© 2016 by
Steven Puchalski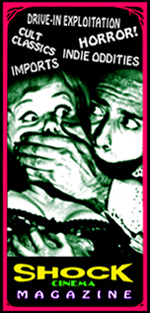 SHOCK CINEMA #52 is currently at the printer.
The issue will be available in early June. Pre-order your copy now!



Pre-order:
SHOCK CINEMA #52.




Four-issue Subscription:
Begin with #52.

Shock Cinema Magazine is an essential periodical for fans of cutting-edge, retro cinema. Each issue features in-depth interviews with the most intriguing character actors, cult celebrities and maverick moviemakers of all time and critiques a wide array of film obscurities, including grindhouse action, sexploitation, horror, sci-fi, drive-in favorites, kitsch gems, overseas oddities, and arthouse dementia.

The newest issue of SHOCK CINEMA Magazine (#51) is available at bookstores across the U.S. and Canada. Or you can order your copy directly from the publisher:

Our NEW mailing address:

SHOCK CINEMA
c/o Steven Puchalski
P.O. Box 798
Edgewater, N.J. 07020

Mail-order copies are $6.00 apiece (which includes First Class USPS shipping), and a four-issue subscription in the US is $20.00. In Canada, it's $24.00. Please make all checks/money orders payable to Steven Puchalski. (Note: all orders outside of North America are $12.00 apiece. Cash or online orders only.) Feel free to contact us about our wholesale prices.

You can also order single copies, subscriptions and back issues online with your credit card or PayPal account.



Purchase:
SHOCK CINEMA #51.




Four-issue Subscription:
Begin with #51.
---
Join us on Facebook for info on upcoming issues.


---
The latest issue features interviews with:
Actor Dabney Coleman (9 To 5, The Muppets Take Manhattan, On Golden Pond, Tootsie).
Actor Chris Sarandon (Dog Day Afternoon, Fright Night, The Princess Bride, Child's Play).
Actor Tracey Walter (Repo Man, Batman, Conan the Destroyer, At Close Range).
Actor Mills Watson (Cujo, Up in Smoke, The Misadventures of Sheriff Lobo).
Director/Writer/Producer David L. Hewitt (The Mighty Gorga, The Girls From Thunder Strip).

| | |
| --- | --- |
| There are also dozens of informative and entertaining film, DVD, Blu-ray, and book reviews, including Buster Crabbe and Chuck McCann in The Comeback Trail; Joseph Adler's Convention Girls; Richard Crenna and Clu Gulager in Footsteps; Edouard Luntz's Naked Hearts [Les Coeurs Verts]; Shelley Winters in A House is Not a Home; Alan Arkin in The Other Side of Hell; Robin Spry's Prologue and Drying Up the Streets; Jeff Morrow and Janet Agren in Dino Risi's A Normal Young Man; Dirk Benedict and Linda Blair in Ruckus; Erica Benedikty's Phobe: The Xenophobic Experiments; The Phantom Kid; Vittorio Gassman in Brancaleone's Army; Robert Walker, Jr. in Beware! The Blob; Lee J. Cobb and Paul Michael Glaser in Trapped Beneath the Sea; Christopher Phelps and Maxim Van Scoy's Lake Nowhere; Larry Peerce's The Sporting Club; Billy Garberina's Rotgut; Daniel Griffith's They Came From the Swamp: The Films of William Grefé; Oldrich Lipský's Long Live Ghosts!; Peter Hooten and Mako in Prisoners; Lake of the Dead [De Dødes Tjern]; the X-rated Fabulous Furry Freak Brothers rip-off Up in Flames... | Don Murray and Linda Evans in Tale of the Cock [Confessions of Tom Harris]; Peter Vaughan in Smokescreen; Rose-Marie Turko's Scarred; Natja Brunckhorst in Ralf Huettner's Babylon [Im Bett Mit Dem Teufel]; George Segal and Stockard Channing in Not My Kid; Felipe Cazals' The Year of the Plague; Françoise Prévost in Fernando Di Leo's A Woman on Fire [Brucia Ragazzo, Brucia]; Dudley Sutton and Ronald Lacey in The Boys; Russell S. Doughten, Jr.'s Whitcomb's War; Lotte Tarp in Morianna [I, the Body]; William Devane in Red Alert; Angela Pleasence and Peter Vaughan in Symptoms; Sammy Snyders in The Pit; the Matt Cimber duet The Candy Tangerine Man and Lady Cocoa; The Scotland Yard Mystery [a.k.a. The Living Dead]; David Soul, Yaphet Kotto and Tom Noonan in Rage!; Paul Chevrolet and the Ultimate Hallucination; Mark Colgrove's Driven to Succeed; Nikias Chryssos' Der Bunker; Harry Kumel's Monsieur Hawarden; The Emperor's Baker - The Baker's Emperor [Císaruv Pekar - Pekaruv Císar]; John Carradine and Neville Brand in Evils of the Night, and much more... |
---
REVIEWS FROM OUR PREVIOUS ISSUE, SHOCK CINEMA #50
John Heard, Stephen McHattie and Levon Helm in the drug smuggling tale Best Revenge.

Dee Wallace and Grant Goodeve in the Christian anti-divorce diatribe All the King's Horses.

Richie Havens and Susan Tyrrell in Patrick McGoohan's cult rock-musical Catch My Soul.

Kay Lenz and John Forsythe in the made-for-TV teen mental illness melodrama Lisa, Bright and Dark.

Jerry Orbach stars in a botched adaptation of Frederick Exley's acclaimed novel A Fan's Notes.
---
Missing a copy of SHOCK CINEMA?
Check out our available BACK ISSUES,
or SUBSCRIBE to the magazine online.

---
NEW COMICS by A. D. Puchalski!
MEADOW #1.
48-pages, Full Color, 8" x 10"
graphic novel... Civilization is
on the brink, dragons roam the
outlands and teenagers still
have f@%king cell phones!


RESTLESS #1.
20-pages. Color cover
with b/w interior,
standard comic size...
No one understands you when
you're eleven. Except monsters.


TOUGH.
16-pages. Color cover
with b/w interior,
standard comic size...
One man faces a wilderness
both strange and beautiful.

Or buy all three and save! MEADOW #1, RESTLESS #1
and TOUGH (plus SWORD OF FRAY ashcan comic!):

ALL PRICES INCLUDE USPS FIRST CLASS POSTAGE.
---
You can also pay a visit to
SHOCK CINEMA MAGAZINE's YouTube Channel!
---