"Some of the best
bizarre film commentary
going... with sharp, no-nonsense verdicts."
- Manohla Dargis,
The Village Voice

"One of the few
review zines you
can actually read
and learn from...
You need this."
- Joe Bob Briggs

"Plenty of well-informed film reviews... Wildly opinionated."
- Film Threat

"The magazine
every movie fan
needs to read."
- E! Online

"Shock Cinema is like riding the A train in the summer from the George Washington Bridge to the Deuce to see "Bucktown."
This is the only
magazine I can
totally relate to."
- William Lustig, director of MANIAC,
UNCLE SAM
Need additional
information?
E-mail us at:
ShockCin@aol.com


© 2015 by
Steven Puchalski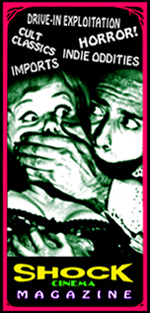 SHOCK CINEMA #50 is now being shipped to subscribers
and distributors!



Pre-order:
SHOCK CINEMA #50.




Four-issue Subscription:
Begin with #50.

Shock Cinema Magazine is an essential periodical for fans of cutting-edge, retro cinema. Each issue features in-depth interviews with the most intriguing character actors, cult celebrities and maverick moviemakers of all time and critiques a wide array of film obscurities, including grindhouse action, sexploitation, horror, sci-fi, drive-in favorites, kitsch gems, overseas oddities, and arthouse dementia.

The newest issue of SHOCK CINEMA Magazine (#49) is available at bookstores across the U.S. and Canada. Or you can order your copy directly from the publisher:

Our NEW mailing address:

SHOCK CINEMA
c/o Steven Puchalski
P.O. Box 798
Edgewater, N.J. 07020

Mail-order copies are $6.00 apiece (which includes First Class USPS shipping), and a four-issue subscription in the US is $20.00. In Canada, it's $24.00. Please make all checks/money orders payable to Steven Puchalski. (Note: all orders outside of North America are $12.00 apiece. Cash or online orders only.) Feel free to contact us about our wholesale prices.

You can also order single copies, subscriptions and back issues online with your credit card or PayPal account.



Purchase:
SHOCK CINEMA #49.




Four-issue Subscription:
Begin with #49.
---
Join us on Facebook for info on upcoming issues.


---
The latest issue features interviews with:
Actor Michael York (Logan's Run, Cabaret, The Three/Four Musketeers, Romeo and Juliet).
Actress Linda Purl (Little Ladies of the Night, A Last Cry For Help, Crazy Mama).
Actress Kristine DeBell (Meatballs, Alice in Wonderland: An X-Rated Musical Fantasy).
Actor Terry Carter (Battlestar Galactica, McCloud, Foxy Brown, Abby).
Actor Steve Eastin (Con Air, Up in the Air, Matchstick Men, A Man Apart, Night Warning).

| | |
| --- | --- |
| There are also dozens of entertaining film, DVD and book reviews, including Belinda Balaski in the ABC Afterchool Special The Runaways; Michael Verhoeven's O.K.; Monica Gayle in The Harem Bunch, or War and Piece; Rod Taylor in The Man Who Had Power Over Women; Oliver Reed and Peter Cushing in No Secrets; Jens Ravn's The Man Who Thought Life [Manden der Tækte Ting]; Charles Denner in Alain Jessua's Life Upside Down; Russ Thacker and Brad Sullivan in Parades [a.k.a. The Line]; Hanna-Barbera's Alice in Wonderland, Or What's a Nice Kid Like You Doing in a Place Like This?; Frankenstein's Wedding... Live in Leeds; James Best in Art Napolean's Man on the Prowl; Topo Gigio and the Missile War; Gian Maria Volonte and Tomas Milian in Face To Face; Dennis Hopper in The American Dreamer; Brett Piper's Queen Crab; Alan Arkin in Chu Chu and the Philly Flash; Anurag Kashyap's Gangs of Wasseypur; Osvaldo Valenti in The Jester's Supper [La Cena Delle Beffe]; The Fantasy of Deer Warrior [Da Xia Mei Hua Lu]... | Ryan O'Neal hosts the TV-special Romp!!, with Jimmy Durante and Cream; Jennifer Beals in Sam Fuller's Tinikling or "The Madonna and the Dragon"; Desi Arnaz, Jr. in Mr. and Mrs. Bo Jo Jones; Dusan Vukotic's The Seventh Continent; Ed Hunt's Canucksploitation duo Pleasure Palace and Diary of a Sinner; Richard Harrison in Fireback and Blood Debts; Gary Graver's And When She Was Bad... [a.k.a. There Was a Little Girl]; Enzo G. Castellari's 1990: The Bronx Warriors, Escape From The Bronx and The New Barbarians; Alexandra Curtis in Eckhart Schmidt's Das Gold der Liebe; Blood Riders: The Devil Rides With Us; Adam Rifkin's Giuseppe Makes a Movie; Robert Conrad in Confessions of the D.A. Man; Valeria Golino in Little Flames [Piccoli Fuochi]; Luigi Cozzi's Contamination and The Tunnel Under the World; Richard Crenna and Paul Williams in Stone Cold Dead; Gerald Kargl's Angst; Tango of Perversion and The Wife Killer; Tomas Gutierrez Alea's A Cuban Fight Against Demons; Harold P. Warren's Manos: The Hands of Fate; and more... |
---
REVIEWS FROM OUR PREVIOUS ISSUE, SHOCK CINEMA #48
---
Missing a copy of SHOCK CINEMA?
Check out our available BACK ISSUES,
or SUBSCRIBE to the magazine online.

---
NEW COMICS by A. D. Puchalski!
MEADOW #1.
48-pages, Full Color, 8" x 10"
graphic novel... Civilization is
on the brink, dragons roam the
outlands and teenagers still
have f@%king cell phones!


RESTLESS #1.
20-pages. Color cover
with b/w interior,
standard comic size...
No one understands you when
you're eleven. Except monsters.


TOUGH.
16-pages. Color cover
with b/w interior,
standard comic size...
One man faces a wilderness
both strange and beautiful.

Or buy all three and save! MEADOW #1, RESTLESS #1
and TOUGH (plus SWORD OF FRAY ashcan comic!):

ALL PRICES INCLUDE USPS FIRST CLASS POSTAGE.
---
You can also pay a visit to
SHOCK CINEMA MAGAZINE's YouTube Channel!
---