"Some of the best
bizarre film commentary
going... with sharp, no-nonsense verdicts."
- Manohla Dargis,
The Village Voice

"One of the few
review zines you
can actually read
and learn from...
You need this."
- Joe Bob Briggs

"Plenty of well-informed film reviews... Wildly opinionated."
- Film Threat

"The magazine
every movie fan
needs to read."
- E! Online

"Shock Cinema is like riding the A train in the summer from the George Washington Bridge to the Deuce to see "Bucktown."
This is the only
magazine I can
totally relate to."
- William Lustig, director of MANIAC,
UNCLE SAM
Need additional
information?
E-mail us at:
ShockCin@aol.com


© 2013 by
Steven Puchalski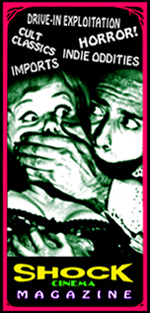 Shock Cinema Magazine is an essential periodical for fans of cutting-edge, retro cinema. Each issue features in-depth interviews with the most intriguing character actors, cult celebrities and maverick moviemakers of all time and critiques a wide array of film obscurities, including grindhouse action, sexploitation, horror, sci-fi, drive-in favorites, kitsch gems, overseas oddities, and arthouse dementia.

The newest issue of SHOCK CINEMA Magazine (#45) is available at bookstores across the U.S. and Canada. Or you can order your copy directly from the publisher:

We also have a NEW
mailing address:

SHOCK CINEMA
c/o Steven Puchalski
P.O. Box 798
Edgewater, N.J. 07020

Mail-order copies are $6.00 apiece (which includes First Class USPS shipping), and a four-issue subscription in the US is $20.00. In Canada, it's $24.00. Please make all checks/money orders payable to Steven Puchalski. (Note: all orders outside of North America are $12.00 apiece. Cash or online orders only.) Feel free to contact us about our wholesale prices.

You can also order single copies, subscriptions and back issues online with your credit card or PayPal account.



Purchase:
SHOCK CINEMA #45.




Four-issue Subscription:
Begin with #45.
---
Join us on Facebook for info on upcoming issues.


---
The latest issue features interviews with:
Actor Stacy Keach (Mike Hammer, Fat City, End of the Road, The Long Riders, Road Games).
Actor Peter Stormare (Fargo, The Big Lebowski, Constantine, 8MM, Minority Report).
Actor Charles Dierkop (The Sting, Butch Cassidy and the Sundance Kid, Police Woman, Pound).
Actress Jenny Wright (Near Dark, The World According to Garp, Pink Floyd The Wall).
Actor Robert Loggia (Lost Highway, The Ninth Configuration, Scarface).

| | |
| --- | --- |
| There are also dozens of informative film, DVD and book reviews, including Val Kilmer and Michelle Pfeiffer in the ABC Afterschool Special One Too Many; Ossie Davis and Dionne Warwick in Slaves; Mike Hodges' trippy children's mini-series The Tyrant King; Basil Rathbone, John Carradine and Cameron Mitchell in Autopsy Of A Ghost; Alice Krige in the South African musical-romance Don't Forget Me [Vergeet My Nie]; Amos Sefer's An American Hippie in Israel; Tom Nardini in the Canadian urban violence tale Self Defense [a.k.a. Siege]; Jonathan Winters, Mark Harmon and George Kennedy guest star in the disaster-movie spoof short Sonic Boom; Oliver Reed and Rita Tushingham in The Trap; Anthony Herrera in Mandrake; Killing Vs. Mandrake; Jean-Louis Trintignant, Florinda Bolkan and Tony Musante in Metti, Una Sera a Cena; Marc Rocco's Scenes From The Goldmine; Fernando Di Leo's Naked Violence [I Ragazzi del Massacro], Kidnap Syndicate [La Città Sconvolta: Caccia Spietata ai Rapitori] and Shoot First... Die Later [Il Poliziotto e Marcio]; Frank Henenlotter's That's Sexploitation; Lucio Fulci's Operation St. Peter [Operazione San Pietro]; John Derek, Ursula Andress and Aldo Ray in Nightmare in the Sun; Steve Dimarco's Thick as Thieves; Peter Cushing in Corruption... | Robert Reed in Operation Runaway: "No Princess For My Cinderella"; Sid and Marty Krofft's abysmal prime-time TV special Fol-De-Rol; Joseph E. Levine in Albert and David Maysles' Showman; Donald Pleasance and Michael Dunn in House Of The Damned [La Loba y la Paloma]; Francesca Annis and Richard Conte in The Eyes Of Annie Jones; Michael and Roberta Findlay's Snuff; Chuck Connors in Walk The Dark Street; a pair of late-'70s TV-specials, The Chevy Chase Show and The Chevy Chase National Humor Test ; Gary Cooper in The Naked Edge; Jack Lord and Tisha Sterling in The Name of the Game is Kill; Daniel Erickson's all-mannequin Eve's Necklace; Graham Kennedy and Bryan Brown in The Odd Angry Shot; Lionel Jeffries and Oliver Reed in the Hammer swashbuckler The Scarlet Blade; WNUF Halloween Special; Emanuele De Santi's Adam Chaplin; Alina Levshin in Combat Girls; Richard Newton's Small White House; Dennis Christopher and Glynnis O'Connor in California Dreaming; Neil Meschino's Mold!; Jessi Gotta in They Will Outlive Us All; the Kazuo Umezu-based Snake Girl and the Silver Haired Witch; Vladimir Potapov's The Mediator [Posrednik] and The Charm Of The Devil [Obayanie Dyavola]; Gene MacPherson's The Last Prom; and more... |
---
REVIEWS FROM OUR PREVIOUS ISSUE, SHOCK CINEMA #44
---
Missing a copy of SHOCK CINEMA?
Check out our available BACK ISSUES,
or SUBSCRIBE to the magazine online.

---
You can also pay a visit to
SHOCK CINEMA MAGAZINE's YouTube Channel!
---