"Some of the best
bizarre film commentary
going... with sharp, no-nonsense verdicts."
- Manohla Dargis,
The Village Voice

"One of the few
review zines you
can actually read
and learn from...
You need this."
- Joe Bob Briggs

"Plenty of well-informed film reviews... Wildly opinionated."
- Film Threat

"The magazine
every movie fan
needs to read."
- E! Online

"Shock Cinema is like riding the A train in the summer from the George Washington Bridge to the Deuce to see "Bucktown."
This is the only
magazine I can
totally relate to."
- William Lustig, director of MANIAC,
UNCLE SAM
Need additional
information?
E-mail us at:
ShockCin@aol.com


© 2018 by
Steven Puchalski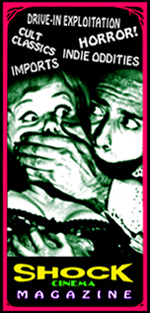 SHOCK CINEMA #54 is currently at the printer.
The issue will be available in early June. Pre-order your copy now!



Pre-order:
SHOCK CINEMA #54.




Four-issue Subscription:
Begin with #54.

Shock Cinema Magazine is an essential periodical for fans of cutting-edge, retro cinema. Each issue features in-depth interviews with the most intriguing character actors, cult celebrities and maverick moviemakers of all time and critiques a wide array of film obscurities, including grindhouse action, sexploitation, horror, sci-fi, drive-in favorites, kitsch gems, overseas oddities, and arthouse dementia.

The newest issue of SHOCK CINEMA Magazine (#53) is available at bookstores across the U.S. and Canada. Or you can order your copy directly from the publisher:

SHOCK CINEMA
c/o Steven Puchalski
P.O. Box 798
Edgewater, N.J. 07020
Mail-order copies are $6.00 apiece (which includes First Class USPS shipping), and a four-issue subscription in the US is $20.00. Please make all checks/money orders payable to Steven Puchalski. Canadian copies are $7.00 apiece, and all orders outside of North America are $12.50 each. Please feel free to contact us about our wholesale prices.

You can also order single copies, subscriptions and back issues online with your credit card or PayPal account.

INTERNATIONAL MAILING UPDATE!



Purchase:
SHOCK CINEMA #53.




Four-issue Subscription:
Begin with #53.
---
Join us on Facebook for info on upcoming issues.


---
The latest issue features exclusive interviews with:
Actor James B. Sikking (Hill Street Blues, Outland, Doogie Howser, M.D., Point Blank).
Actress Jane Alexander (All the President's Men, Testament, Brubaker, The Great White Hope).
Actress Stacey Nelkin (Get Crazy, Halloween III: Season of the Witch, Yellowbeard, Serial).
Actor Chris Ellis (Apollo 13, October Sky, That Thing You Do!, My Cousin Vinny).
Actor Randall Carver (Taxi, Time To Run, Detour To Terror, There Will Be Blood).


| | |
| --- | --- |
| There are also dozens of informative and entertaining film, DVD and Blu-ray reviews, including Schuyler Hayden in James Landis' Rat Fink; Michael Montgomery and Lynn Baker in Just Be There; Bruno Cremer in Costa-Gavras' Shock Troops [1 Homme de Trop]; David McCallum and Ossie Davis in Teacher, Teacher; Richard Hobert's The Twelve Months of Summer [Sommarens Tolv Månader]; Max von Sydow and Bibi Andersson in Vilgot Sjöman's The Swedish Mistress; Edward Albert and Yaphet Kotto in Terminal Entry; Dan Haggerty in The Tender Warrior; Persis Khambatta and Vic Morrow in The Man With the Power; Roberta Findlay's A Woman's Torment; Garage Rockin' Craze; Chris Robinson and Mickey Rooney in The Intruder; WJWS Channel 13 Amity [a.k.a. The Jaws Ride Queue Video]; Robert Shaw in William Friedkin's The Birthday Party; Christina Gregg in Don't Talk To Strange Men; Adam Baldwin in Bad Guys; Jill Lansing in Malibu High; Daniel Wronecki's Marie La Louve; Bruce Cabot in Sinner Take All; Doris Wishman's The Prince and the Nature Girl; Cameron Mitchell in Mario Bava's Eric the Conqueror... | Jacques Campreux in the French mini-series The Companions of Baal; Tom Troupe in the Nikolai Gogol adaptation Sofi; Thomas Mitchell and Pauline Hahn in Too Young to Love; Tony LoBianco and Hal Linden in Mr. Inside/Mr. Outside; Keith Carradine, Tom Skerritt and Sybil Danning in Run Run Joe; Ian McShane in Freelance [a.k.a. Con Man]; Karen Austin and Diana Scarwid in The Ladies Club; Jack Warner in Val Guest's Jigsaw; Cliff Robertson in Ace Eli and Rodger of the Skies; Mary Mendum in Roberto Mitrotti's Little Girl Big Tease; Francesca Annis and Jeremy Bulloch in The Young Jacobites; Tom Hanson's The Zodiac Killer; Sigrid Thornton and Chantal Contouri in Snapshot; Charles Pinion's American Mummy; Shirley Jones and Rossano Brazzi in Dark Purpose; Philip Friend in Cloak Without Dagger [a.k.a. Operation Conspiracy]; Patrice Molinard's Fantasmagorie; Joseph Sarno's Red Roses of Passion; James Caan in Howard Hawks' Red Line 7000; The Hell [Shi Ba Ceng Di Yu]; Pete Schuermann's The Creep Behind the Camera; Marc Price in George Pavlou's Little Devils: The Birth; and much more... |
---
REVIEWS FROM OUR PREVIOUS ISSUE, SHOCK CINEMA #52
Bernie Travis in the low-budget, semi-true story of Lenny Bruce, Dirtymouth.

Nicol Williamson and Anna Karina star in Vladimir Nabokov's Laughter in the Dark.

Jean Seberg and James Mason in the loopy,
anti-drug crime-thriller Kill!

Julie London and John Drew Barrymore in the trashy misegenation melodrama Night of the Quarter Moon.

Karate-chopping high school girl Lucinda Dooling battles drug dealers in Lovely But Deadly.
---
Missing a copy of SHOCK CINEMA?
Check out our available BACK ISSUES,
or SUBSCRIBE to the magazine online.

---
NEW COMICS by A. D. Puchalski!
MEADOW #1.
48-pages, Full Color, 8" x 10"
graphic novel... Civilization is
on the brink, dragons roam the
outlands and teenagers still
have f@%king cell phones!


RESTLESS #1.
20-pages. Color cover
with b/w interior,
standard comic size...
No one understands you when
you're eleven. Except monsters.


TOUGH.
16-pages. Color cover
with b/w interior,
standard comic size...
One man faces a wilderness
both strange and beautiful.

Or buy all three and save! MEADOW #1, RESTLESS #1
and TOUGH (plus SWORD OF FRAY ashcan comic!):

ALL PRICES INCLUDE USPS FIRST CLASS POSTAGE.
---
You can also pay a visit to
SHOCK CINEMA MAGAZINE's YouTube Channel!
---