THE PRIVATE LIVES OF ADAM AND EVE (1960).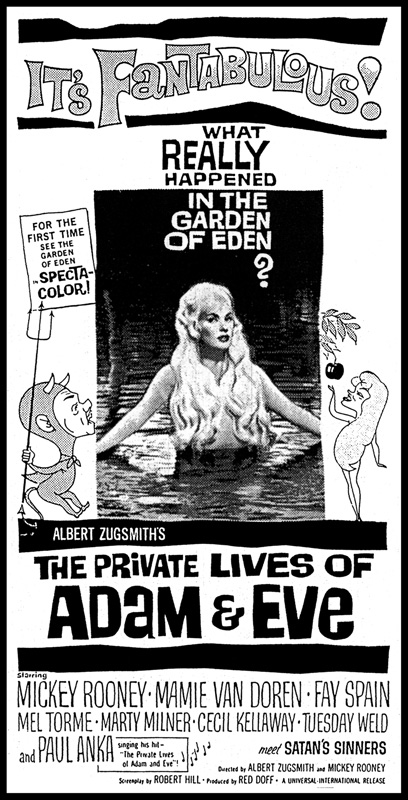 It's difficult not to dig that crazy Albert Zugsmith. Producer of such wide-ranging gems as HIGH SCHOOL CONFIDENTIAL and Orson Welles' TOUCH OF EVIL, the guy also directed such masterful schlock as CONFESSIONS OF AN OPIUM EATER, TWO ROSES AND A GOLDEN ROD and MOVIE STAR, AMERICAN STYLE OR; LSD, I HATE YOU. In this wrongheaded endeavor, he shares the director's chair with Mickey Rooney, thus proving that two half-wits do not make a whole-wit. Still, the finished flick was condemned by the Catholic Legion of Decency (due to a sexy primitive dance sequence featuring Barbara Walden, which was censored for the US theatrical print), so there's gotta be something worthwhile about it, right? Well, only if you're a fan of jaw-droppingly lousy movies. This self-described "fable" begins on a bus to Reno, packed with a mind-warping assortment of stars. There's a traveling salesman (Mel Torme), a two-bit casino owner and his missus (cocky li'l fuck Mickey Rooney and Fay Spain), ever-simmering Tuesday Weld as teenage runaway Vangie Harper ("Once they called her Bobby Sox. Now they call her Baby Sex."), plus the bus driver (Brit character actor Cecil Kellaway). There's also a couple on the verge of divorce, with B-movie, D-cup bombshell Mamie Van Doren as Evie and a pre-ADAM 12 "Marty" Milner as Ad. Last but not least, a Vitalis-ized Paul Anka is rock 'n' roller Pinkie Parker, who steers his jalopy with his feet, so his hands are free to play his guitar and croon the title tune. While the beginning is a definite winner, all of that shifts when a flash flood strands these idiots in a rain swept, symbolically-named pit stop called Paradise, Nevada. Eventually, they're all trapped in a church,
as the waters rise and Rooney disses on God. As Ad and Evie sleep, the b&w film stock switches to an ugly "Spectracolor," and we're tossed into a Biblical flashback with Milner and Van Doren playing the title nudists (Milner wears Speedo sized trunks, while Mamie's platinum blonde tresses are superglued over her ticket-sellers). This is when the pain kicks in. While Milner frolics through a Disneyland-fake Garden of Eden (naming the animals, no less), Eve's appearance only makes his life difficult, since she continually has him rearranging the boulders in their cave. Then, after they bite the apple, Adam gets tipsy and is tempted by Lilith (Fay Spain), with Eve getting jealous. Stoking this tension, Rooney hokes it up as Satan -- complete with red longjohns and a straw hat w/horns. Conveniently, this co-director is continually fawned over and fondled by his scantily-dressed "Devil's Familiars" (including Playboy magazine favorite June Wilkinson), who dress up as a baseball team and a jazz quartet. The best is when Rooney squeezes into a dime-store snake costume for his tempting of Eve. This might sound relatively risque, but it's anything but. Milner is dorky-as-usual, Mamie lets her physical charms do all of the acting, and the hottest thing in the movie is 16-year-old Weld in a wet sweater. Essentially, we have eight characters in search of quick paychecks, and it's hard to imagine anyone who fell for its lascivious ad campaign not wanting to give Zugsmith a swift kick in the ass afterward.

© 1998 by Steven Puchalski.