DIRTY LITTLE BILLY (1972).
I don't believe it. A great movie from Stan Dragoti, the shit-meister behind multiplex pabulum like MR. MOM, THE MAN WITH ONE RED SHOE and SHE'S OUT OF CONTROL. Well, the guy certainly proved his directing chops after graduating from Madison Avenue TV commercials and teaming up with producer Jack L. Warner for this saga of the old west, with a script written by Dragoti and Wells, Rich and Greene advertising firm president Charles Moss. This is no typical, Tinseltown western though. It's more like The Making of a Sociopath, with Michael J. Pollard starring as displaced, 17-year-old Billy Bonney, in the days leading up to his evolution into the notorious Billy the Kid. Leaving New York City with his mom and (asshole) step-dad, the trio is first glimpsed arriving at a tiny Kansas cesspool named Coffyville; a DJANGO-like shanty town which keeps the entire cast continually ankle deep in dried mud, and with cinematographer Ralph Woolsey (THE MACK) bringing out the worst in the place... It's immediately evident that Billy is inept at farming, and this "punk" soon falls into bad company at the local saloon-whorehouse; meeting a gambler-killer named Goldie (Richard Evans) and Lee Purcell as Berle, a pretty, gun-totin' whore. Much of the pic consists of Billy, Goldie and Berle holed up inside the tiny saloon, drinking, bonding, screwing, and passing out. Meanwhile, outside the saloon door, this shithole is trying to become recognized by the government as a 3rd-class town, even if it takes a neighboring epidemic to raise their population enough to do so. After that,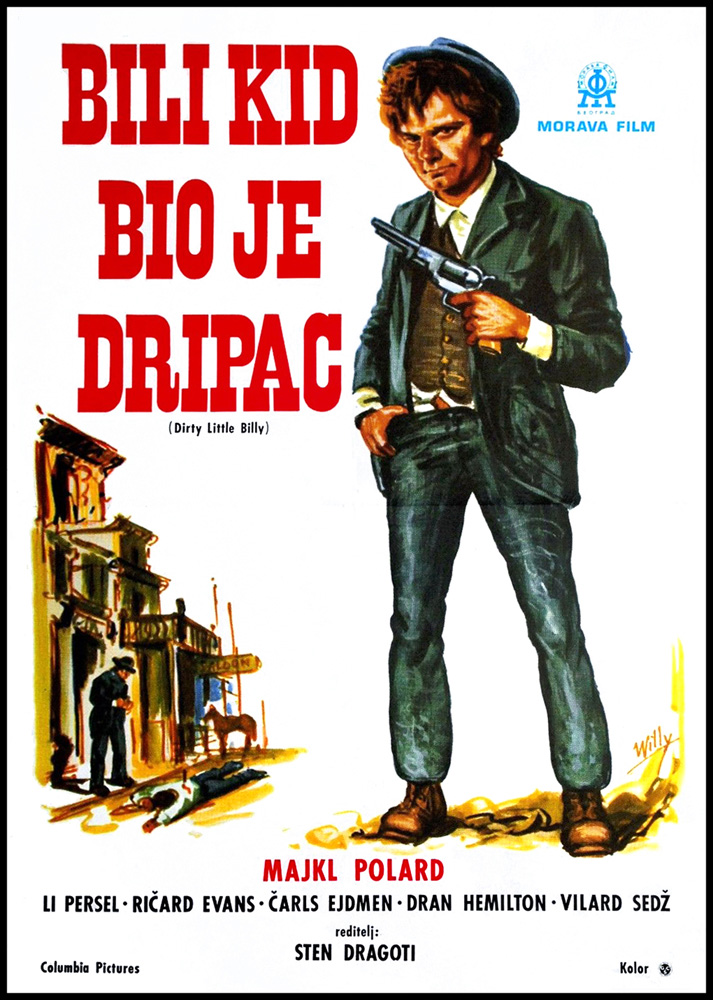 the townsfolk can finally get a sheriff and drive the scum outta town. This is the perfect role for Pollard. And though a little old to play a teenager (he was 33), he hands us a Billy who's perpetually victimized by bad luck, until he finally blows a gasket at the very end and sparks his future. The supporting cast is also solid, with a stand-out performance from Purcell, who's tough, unromantic, and able to handle herself in a knife fight. She leaves such an impression that you wonder why her career never ignited, despite roles in equally eccentric '70s pics like KID BLUE, ADAM AT 6 A.M. and BIG WEDNESDAY. There are also brief appearances from Gary Busey as a long-haired hick kid, Ronny Graham as the town drunk, Severn Darden as a thief, and (for the biggest laugh) Dick Van Patten, who pops up for a few seconds as one of Berle's customers. This is a true anti-western, without a character that you can totally warm up to, since they're either inept, crazy, stupid or ruthless. Except Purcell, that is, so you can understand why Billy falls for her. Even the occasional moment of violence -- like a barroom blowout -- is quick, brutal and totally convincing. Unlike any western you've ever seen, this is McCABE AND MRS. MILLER's evil brother.

© 1996 by Steven Puchalski.