FLAREUP (1969).
The premise of this MGM vehicle for 28-year-old, budding starlet Raquel Welch was certainly solid -- an exotic dancer is targeted for murder by an obsessed, pissed-off psychopath -- but despite all of the groovy, late-'60s trappings (micro-skirts, badly-dated slang and, particularly, its early Las Vegas sequences, back when the Flamingo was just a two-story building), a bland script and self-destructively insipid lead character keeps it firmly mediocre (not to mention, far less exploitative than you might hope). When we first spot Luke Askew's Alan Morris, he's stalking ex-wife Nikki, who wants nothing more to do with this bowl-haircutted creep. He blames their break-up on Nikki "getting her mind poisoned" by her dancing co-workers, Iris (Pat Delaney, co-star of Larry Buchanan's more-inept-than-usual CREATURE OF DESTRUCTION) and Raquel Welch's Michele, who's top-billed at the legendary Pussycat a' Go-Go. But when Alan guns down his ex in the middle of the Riviera. Michelle might be hot, but she certainly isn't the swiftest chick, because after stubbornly refusing police protection -- even after Alan's second attempt on her life, by mowing her down with his car! -- she flees to Los Angeles instead. There she tries out for a dancing gig at The Losers nightclub on La Cienega Boulevard, where Michelle runs into handsome, hip Joe Brodnek (James Stacy, in the final big-screen feature before the motorcycle accident that cost him his left arm and leg). And even though Alan is wanted by every cop in the state, he hitchhikes in plain sight to L.A. to finish her off... FLAREUP kicks off with colorfully groovy go-go-girl credits designed and directed by Don Record (who created titles for CLEOPATRA JONES, THE CANDIDATE, SGT. PEPPER'S LONELY HEARTS CLUB BAND, et cetera), but it's all downhill from there. After a fast-paced (albeit hokey) opening half-hour, it turns sluggish with Michelle and Joe's blossoming romance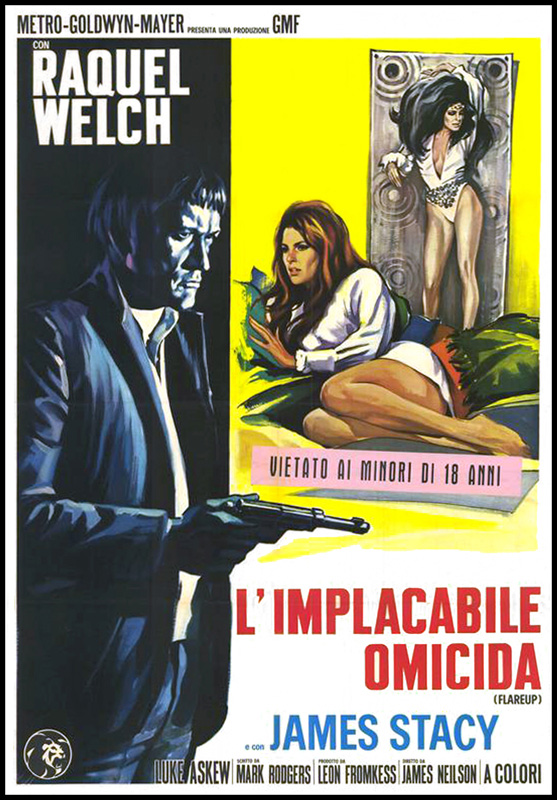 (e.g. riding a horse together, cavorting on the beach, but no actual sex), with director James Neilson (DR. SYN, ALIAS THE SCARECROW) incapable of squeezing many thrills out of the stale script. At least its climax generates some last-minute unintentional laughs... Ever wonder why Raquel Welch got such an bad rap about her early acting career? Well, this is a prime example of why the press considered her a disposable pneumatic pin-up. Man, she's terrible. And the more depth the clunky script struggles to give Michelle (e.g. her wariness of commitment), the more wooden Raquel gets. Plus if you hire someone with Welch's... ahem... attributes to play a exotic dancer, you would think there'd be plenty of opportunities to watch her strut her stuff. Nope. Only once, in the first reel, and while Michele's co-workers shimmy topless on-stage, prudish Michele prefers a low-cut one-piece. Charming Stacy acts circles around Welch (unfortunately, James' 1995 arrest for child molestation, suicide attempt and six-year prison stint makes it difficult to wholeheartedly embrace his nice guy schtick nowadays), while the late, great Askew (EASY RIDER, THE GREEN BERETS) brings a vengeful intensity to his one-note screwball -- even shooting an old man in the back! The supporting cast includes Jeane Byron (the mom from THE PATTY DUKE SHOW) as the manager of The Losers; a 29-year-old, nearly unrecognizable Ron Rifkin (ALIAS) as the Pussycat's junkie bartender Sailor, who can't keep his mouth shut; plus look quickly for W.K.R.P. IN CINCINNATI's Gordon Jump as a security guard.

© 2013 by Steven Puchalski.