1 P.M. [a.k.a. One P.M.] (1972).
In 1969, king of the artsy-fartsy French New Wave, Jean-Luc Godard, joined forces with director D.A. Pennebaker (DON'T LOOK BACK) and producer Richard Leacock for a US-based feature entitled 1 A.M., or ONE AMERICAN MOVIE. It was never completed, until Pennebaker assembled the (extremely-raw) footage on his own, added a few additional scenes and released this "Parallel Movie" in 1972 as 1 P.M. The result is an irritatingly abstract, handheld potpourri of late-'60s artists and cultural icons, all vaguely revolving around fighting The System, since Godard was totally convinced that the US was on the precipice of revolution. Wow, was he dead wrong! There's no structure to the movie, as it bounces from one indulgent sequence to the next, starting with Rip Torn in full Native American garb, loudly repeating phrases from a tape recorder playing a speech by future Chicago Seven defendant Tom Hayden. Rip continues his bellowing while roaming about a skyscraper that's under construction, and this crap goes on for the first 15 minutes, which is a surefire way to put any audience into a coma. We then meet Hayden, co-founder of the Students for a Democratic Society, back when he was one of the most idealistic activist voices in the nation. Filmed in what appears to be his backyard, he pontificates endlessly about the US's military commitment to suppress worldwide social revolution -- while the cameraman gets so bored that he instead focuses on Godard smoking a cig on the sidelines. Black Panther founder Eldridge Cleaver (SOUL ON ICE) then discusses the demise of civil rights and the imprisonment of Black revolutionaries. What we aren't told is that this controversial author demanded a thousand bucks for his appearance,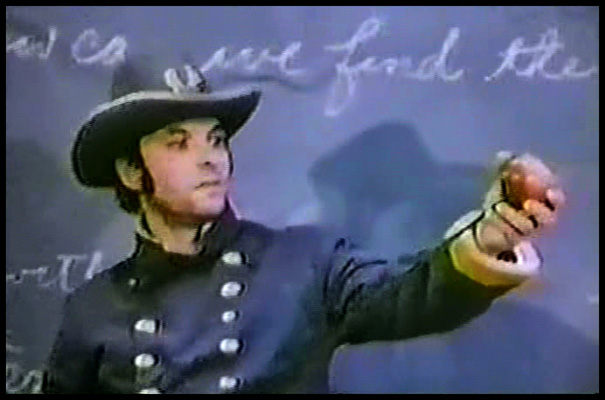 and that money was used to escape from an attempted murder charge and flee to Algeria. The filmmakers follow dashikied musicians who chant in the middle of the street and include LeRoi Jones (a.k.a. Amira Baraka, of "Somebody Blew Up America" infamy), as well as a female pro-big-business lawyer as she walks around Lower Manhattan's financial district. And just when you thought the film couldn't get any more self-absorbed, you get Godard rehearsing Rip Torn for his previous scene and Tom Hayden listening to his own speech from earlier in the flick. At this point in Rip Torn's career, he was flying his freak flag high in films such as COMING APART and MAIDSTONE, and he boldly wades into any ridiculous idea Godard threw at him. The funniest is his visit to a NYC schoolroom -- mostly populated by black students -- dressed up like a Confederate soldier! What begins as a lecture about underdeveloped countries soon turns into a rap session between the kids and Torn, as Rip tries to open their eyes to the inherent evil of big business and government. Sure, it's a bit condescending to see a rich, white liberal lecturing minority kids about revolution, but it's also riveting. The highpoint arrives at the very end, when Godard finally dumps his agenda in favor of a brief, permit-free, Manhattan-rooftop jam by Jefferson Airplane, back when they still had a sliver of musical credibility. Pre-dating The Beatles' LET IT BE roof-gig by a few months, Grace, Marty and guitar-god Jorma perform a mind-blowing rendition of "House at Pooneil Corners," until the cops shut 'em down. It's an excellent finish for an unfocused, leaden, crudely fascinating Pinko-vérité time capsule.

© 2005 by Steven Puchalski.