THE CHALLENGE (1970).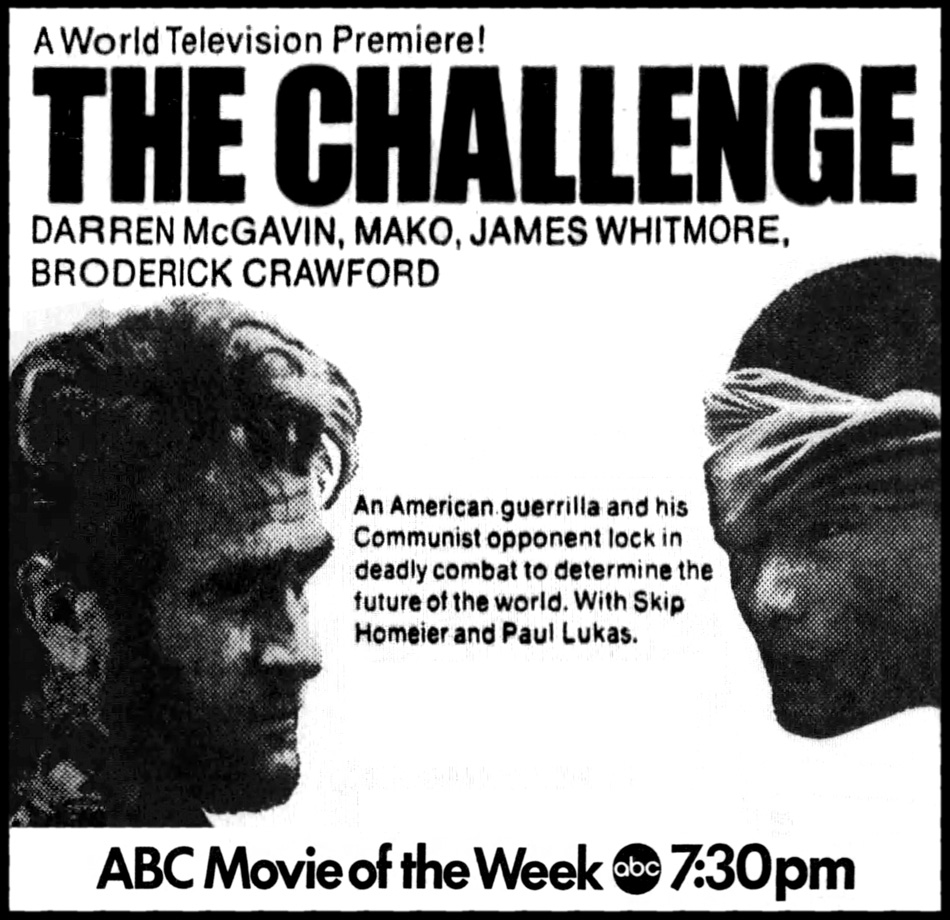 Remember that old STAR TREK episode where Kirk had to single-handedly battle the Gorn? Well, imagine that story crossed with John Boorman's HELL IN THE PACIFIC and you get this early made-for-TV movie, broadcast on February 10, 1970. It's a provocative film, as well as a showcase for two incredible character actors, a pre-Kolchak Darren McGavin and Mako (Oscar nominee for THE SAND PEBBLES), who both passed away in 2006... The US is stuck in a dangerous stand-off with an unnamed Communist country (referred to as a "fifth-rate People's Republic") after a high-tech satellite drops into enemy waters. Politicians (represented by James Whitmore) would prefer to avoid World War 3, the military (with Broderick Crawford as a blowhard General) wants to kick butt, but both countries instead agree to a unique "surrogate proposal" -- having one delegate from each side battle it out on a three-mile chunk of Pacific island. The US's unorthodox candidate is court-martialed Jacob Gallery (McGavin), a tough, arrogant scumbag currently working as a Biafra mercenary! Heavily-armed Gallery is dumped onto this rock, convinced it's going to be a cakewalk, because one lone guy from some insignificant Asian country couldn't cause much damage to an American, right? Yep, it's a heavyhanded Vietnam analogy,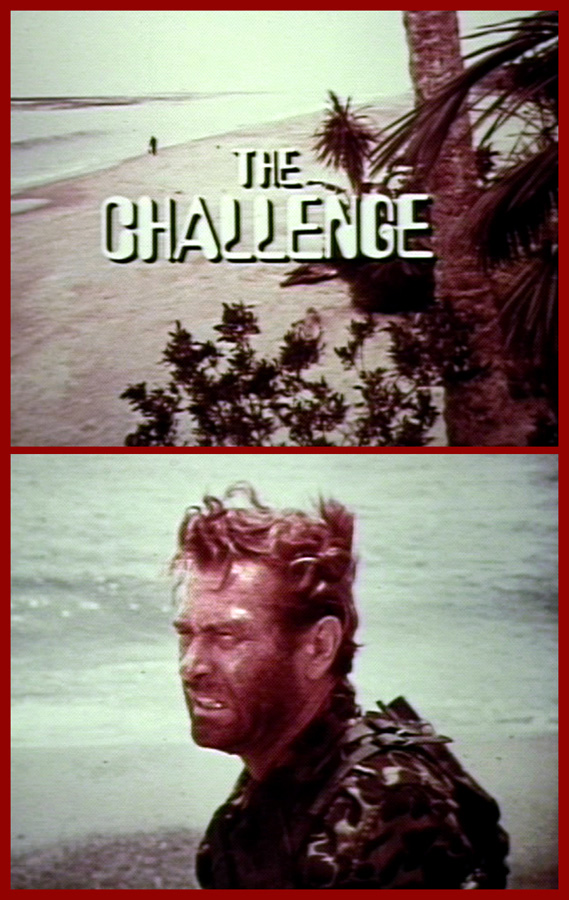 but I'm still surprised that this made it onto prime-time TV in the midst of the war. The remaining hour is a battle of wills, and as these two warriors cautiously track each other about Craphole Island (which often looks about as Asian as an episode of MASH, with rubbery jungle foliage that could've been leftovers from GILLIGAN'S ISLAND), Gallery quickly discovers that his foe, Yuro (Mako), is equally clever and determined. Yuro utilizes the natural terrain, Gallery depends on his military might and devious tactics (like poisoning the island's fresh water). Plus leave it to the American side to cheat! McGavin dives headfirst into his colorful role, which leaves him wounded, disheveled and hallucinating, and it's too bad Mako is shorted in terms of character. Co-stars include Sam Elliott, looking impossibly young and clean-cut, as a gung-ho soldier who's the Army brass's #2 choice, plus Adolph Caesar as an island ex-resident with survival tips. Written by Marc Norman (who, 28 years later, would win two Oscars for SHAKESPEARE IN LOVE), the film also boasts an early appearance by "Allen Smithee" in the director's chair (in place of future THE TAKING OF PELHAM ONE TWO THREE director Joseph Sargent, who had a fight over the film and walked out on the editing), but it's hard to understand why that pseudonym was used in this case, since THE CHALLENGE is actually a tightly-wound lesson about the stupidity and futility of warfare.

© 2007 by Steven Puchalski.