DARK INTRUDER (1965).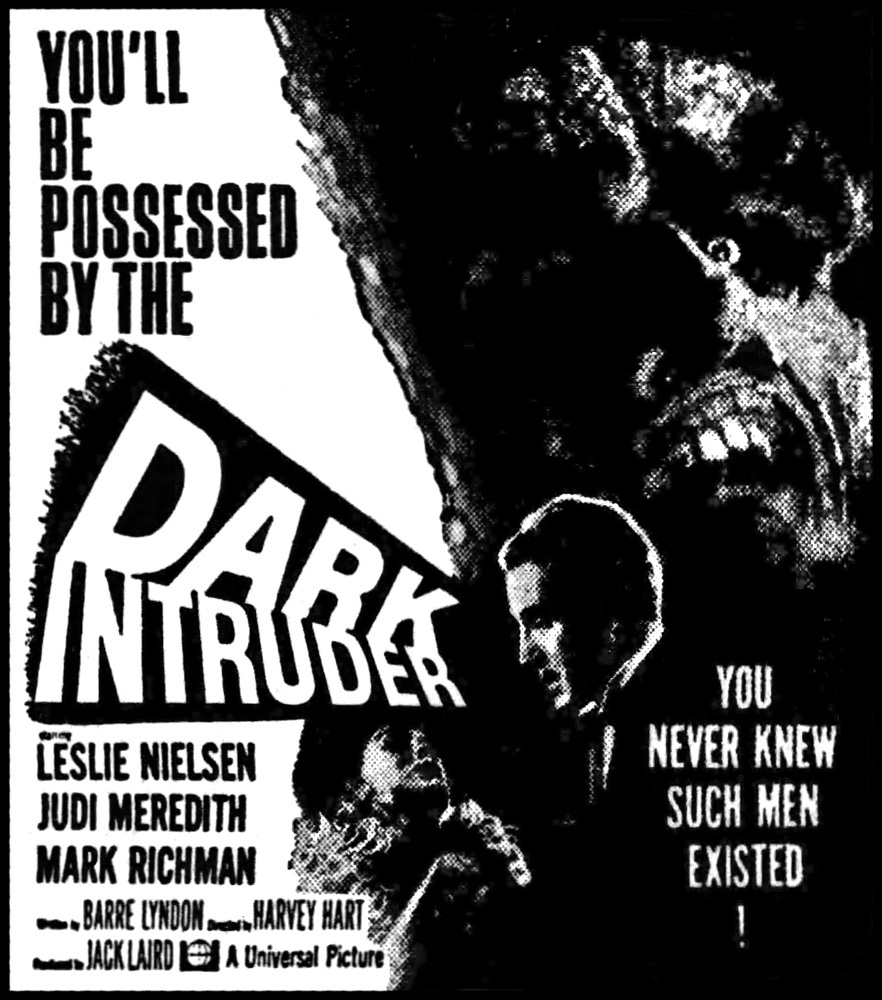 I first came across this flick over 40 years ago, when I tracked down a 16mm print of it at the request of a friend, Dick Pero. It was well worth the effort. Originally conceived as a TV-pilot entitled BLACK CLOAK, after the program was turned down by all three networks, Universal shot additional sequences in order to pad this black-and-white production out to a full hour, then gave the film a tepid 1965 theatrical release (usually on the bottom half of double-bills, paired with titles like THE GHOST AND MR. CHICKEN) in hopes of recouping some of their $250,000 investment. It definitely deserved better... Centered around an occult investigator working in late 19th-century San Francisco, Leslie Nielsen stars as Brett Kingsford, a playboy/sleuth with a townhouse full of supernatural bric-a-brac and a resourceful dwarf manservant (Charles Bolender). When a twisted fiend goes on the prowl throughout the city, clawing folks to death and leaving a small ivory statue at each murder scene, the baffled Police Commissioner seeks help from Kingsford, who quickly suspects that an ancient Sumerian demon seeking resurrection is responsible for these ritualistic killings. Judi Meredith co-stars as Evelyn Lang, an attractive (and excessively chatty) friend of Kingsford's, who's preparing to marry importer Robert Vandenburg (Peter Mark Richman). But it's soon apparent that her fiancé ain't quite right -- suffering from unusual "spells" and connected to many of the victims -- with Kingsford attacked when he gets close to the truth, Evelyn's wedding day nearing and one last sacrifice required...
Kingsford is a fascinating character and a perfect fit for Nielsen, who keeps him dapper, quick-witted and well-versed in the dark arts. The supporting cast includes Peter Brocco as a wise old Chinaman (naturally, with a droopy mustache and eight-inch fingernails), Vaughn Taylor plays a physician and a pre-HOGAN'S HEROES Werner Klemperer provides the voice of sinister fortune teller Professor Malaki. Director Harvey Hart (who earlier produced CBC-TV productions of Henrik Ibsen's "An Enemy of the People" and Arthur Miller's "The Crucible," both starring fellow Canadian Leslie Nielsen) overloads this production with creepy atmosphere and ornate props, while wisely keeping the chintzy make-up mercifully brief. British criptwriter Barré Lyndon (THE WAR OF THE WORLDS, HANGOVER SQUARE) also laces it with intriguing concepts, a little Lovecraftian namedropping and an imaginative wrap-up that was undoubtedly too freaky for mid-1960s network fare.

© 2021 by Steven Puchalski.