THE FAILING OF RAYMOND (1971).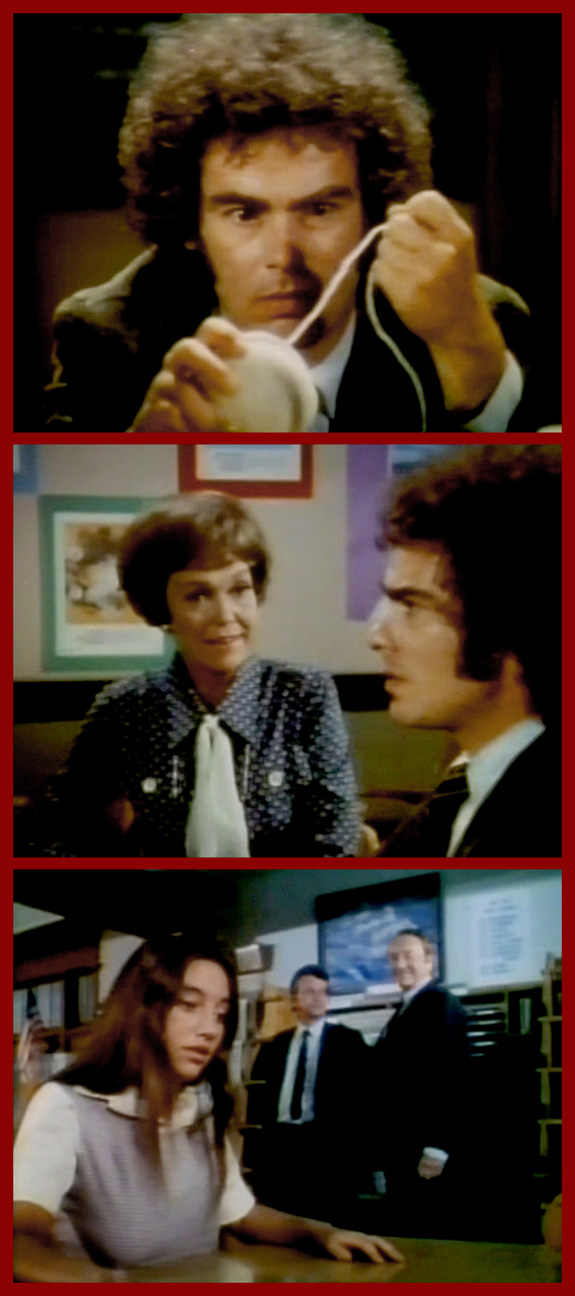 Hard to believe, Dean Stockwell's life has been even stranger than his on-screen characters. After becoming a child star in the 1940's, an exhausted, 16-year-old Stockwell took a five year break from the Tinseltown grind in order to explore the world and work an array of odd jobs. The guy then dropped out for another three years in the mid-'60s, in order to embrace the counterculture lifestyle of free love, trippy drugs and hippiedom -- oh, and also hang out with pals like Dennis Hopper, Jack Nicholson and Russ Tamblyn. Hollywood has a short-term memory though, and by the '70s, his only available acting gigs were either low-rent exploitation (THE LONERS, THE DUNWICH HORROR) or made-for-TV fare like this psychodrama directed by small-screen vet Boris Sagal (A CASE OF RAPE, THE MOVIE MURDERER)... Stockwell plays shaggy-haired Raymond, an escaped mental patient who returns to his old high school in order to settle a long-festering grudge. You see, his high school teacher Mary Bloomquist (Jane Wyman) is retiring and, ten years earlier, she failed Raymond and didn't allow him to graduate. So this nutjob blames her for his shitty, subsequent life. Meanwhile, Bloomquist stupidly assumes Raymond (whom she doesn't recognize) is responding to her recent handyman ad, to help pack up and lug her crap. When Raymond's initial opportunity for redemption fails, this creepo continues to hang around campus and, in the final third, takes Bloomquist captive in her classroom... forcing her to finally allow him to take a English Lit make-up test! As you might've surmised from my synopsis, the tepid teleplay by longtime TV-scribe Adrian Spies (who penned the classic STAR TREK episode "Miri") is the problem here, without enough plot to even fill a 71-minute running time. Raymond might be crazy, but he barely seems dangerous and the project would've benefited from some legitimate suspense. To make matters worse, it slaps on an upbeat, life-affirming ending. Phooey! Stockwell brings some welcome intensity to his thinly-written role, and he's so uniformly creepy that you're surprised Bloomquist doesn't peg him for a basketcase the moment they meet. Alas, even Raymond eventually becomes tiresome (though I did get a laugh out of his hazy high-school flashbacks, with Stockwell sporting a godawful short-haired wig). When first telecast, the film's big draw was Oscar-winner (and first wife of Ronald Reagan) Wyman, but she's downright dull compared to Dean's entertaining quirks. Few thrills are to be found in their conflict though, with the fine supporting cast given little to do ("Hey, let's hire one of the stars of CASABLANCA, Paul Henreid, for one lousy scene as Raymond's doc."), including Dana Andrews as Bloomquist's old flame; (JAWS-mayor) Murray Hamilton plays Police Sgt. Manzak, who searches for clues for Raymond whereabouts; Priscilla Pointer (mother of Amy Irving) is another teacher and William Katt (who'd later date CARRIE co-star Irving) can be spotted as a student; plus look for the director's 17-year-old daughter, Catherine Louise Sagal (a.k.a. Katey Sagal, looking impossibly fresh-faced) in her acting debut as a disturbed girl with info on wayward Raymond.

© 2013 by Steven Puchalski.