FAREWELL UNCLE TOM (1972).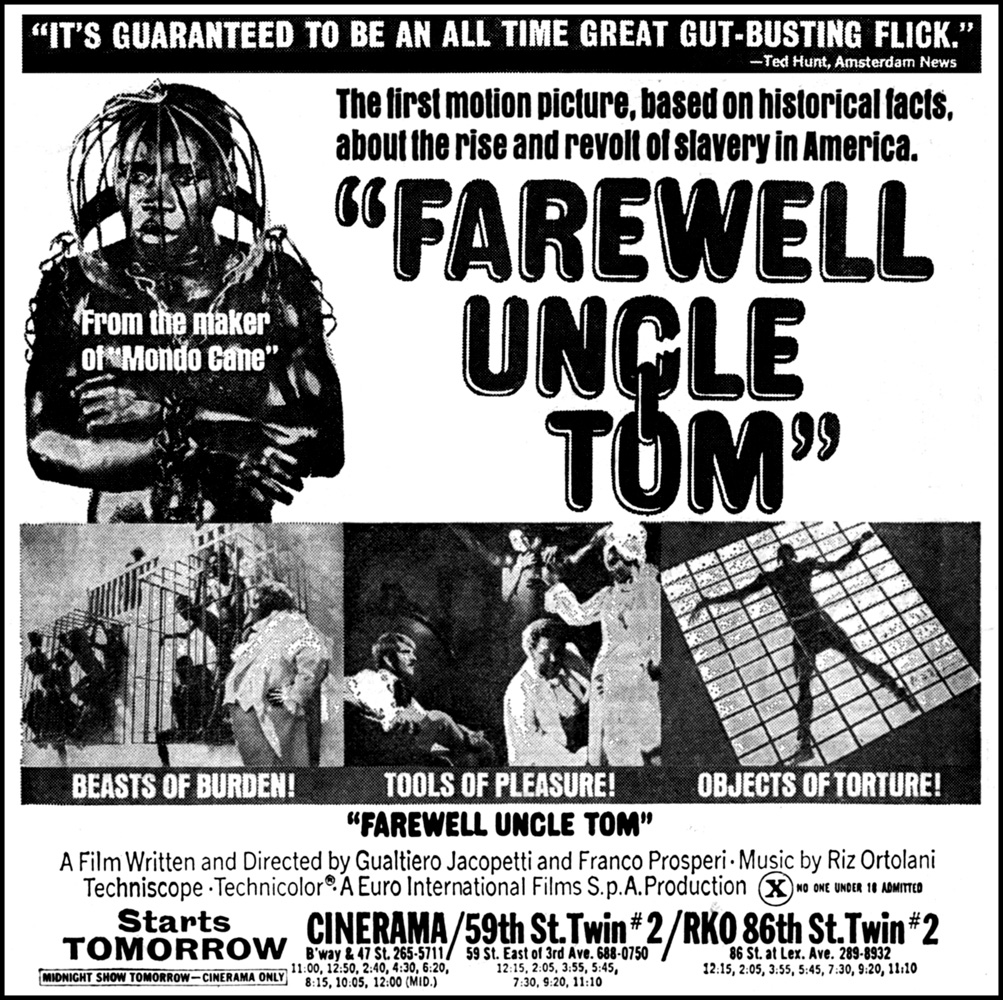 This flick is incredible! An Italian-produced MANDINGO-clone filmed in mock-documentary style by Gualtiero Jacopetti and Franco Prosperi, the happy-go-lucky deviants who gave us MONDO CANE. This isn't blaxploitation fodder though. It's a history lesson made flesh, recreating the wall-to-wall brutality that made up American slavery. In comparison, it makes ROOTS look like an episode of THE JEFFERSONS... Set on a southern cotton plantation in the 1800's, the weirdness kicks in when a helicopter full of filmmakers begin circling the place. Taking the old YOU ARE THERE concept of bringing a modern camera crew back in time to chronicle an event, we're witness to two full hours of debasement as every detail of slave life is rubbed into our faces. We begin with the slave slips, men crammed shoulder to shoulder, rats crawling on them. But that's a picnic compared to the cages and castration to come once they hit the Land of the Free. That's followed by brandings, enemas, rape, and general torture. Quickly, you realize that despite all their good intentions, these sick pastaland filmmakers love to focus on the most graphic, exploitable elements--giving us inhumanity on a grande scale, complete with sumptuous sets and costumes, hundreds of naked extras, and frighteningly authentic props. Using their investigative journalism conceit,
interviews are intercut with the cruelty -- half-witted whites spewing out horseshit philosophy ("Every great civilization was founded on slavery"); lily-white scientists whose experiments have proven that blacks are sub-human; plus servants, such as a 13-year-old girl on her way to be deflowered by her "Massa". I promise you will NOT believe what you're watching, and Jacopetti & Prosperi pile on the sledgehammer imagery to jaw-dropping effect (a white child and black child run through a field together -- then you suddenly realize the black kid is on a leash!). And the epilogue is totally gratuitous and righteous, with a modern-day black man contemplating if things have really changed, followed by a cool Kill Whitey scenario! Yeah! Just what you need after this barrage of brutality. Filmed in Haiti, this pic is one of the most depressing, numbing ordeals ever put to film. A celluloid stranglehold. See it!

© 1994 by Steven Puchalski.