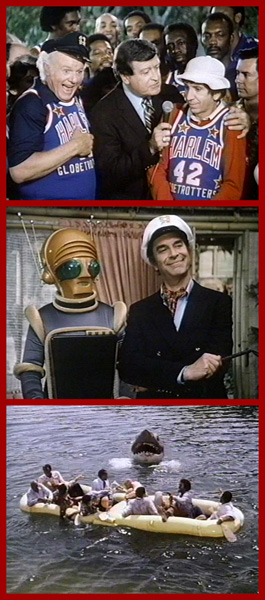 AARRRGGHHHHH! I still have the emotional scar tissue from watching this wretched disaster! How bad is it, you ask? Imagine the worst possibility, and then triple it! What a chunk of shit!... Though the entire bunch of castaways was rescued in one of their two previous TV movies, the Howells have turned the island into a hotel complex and all of the aged sitcomers have returned as co-owners. They still live in those idiotic bamboo huts, sleep in hammocks and fall over each other like nitwits -- but now there are Love Boat-style bikinied tourists roaming about, so that Skipper can ogle them, like some kind of pot-bellied pervert. Almost all the old cast members who couldn't get work for the last 20 years are back, and gosh, it's pathetic watching these no-talent buffoons run about the backlot. (Bob Denver looks worst for wear, with greying hair & skin to match.) Tina Louise is the only one with the dignity to turn down the paycheque (of course, she was also pushing 50 at the time), and although Jim Backus gets third billing, he only turns up during the last three minutes... Meanwhile, somewhere over the Pacific, The Harlem Globetrotters are in their private plane when Coach Scatman Crothers informs them of an electrical malfunction. Landing in the ocean, they're menaced by the shark in Jaws (they throw basketballs at it and it goes away) borrowed from the Universal Backlot Tour, and wind up on Gilligan's Island, practising b-ball with coconuts... Martin Landau and Barbara Bain then appear as a pair of villains (along with their orange robot, George) who want to take over the island because of its supply of Supremium, a new form of energy with which they can rule the world (oddly enough, it looks just like a plastic rock with a 100 Watt bulb inside). Even those who forgave Landau & Bain for SPACE 1999 won't be so kind- hearted to the pair this time around... After a few lame attempts on the castaways' lives (none of the them successful, unfortunately), it all comes down to a basketball game for the possession of the entire island
(complete with network sportscasters) between The Globetrotters and The New Invincibles, a team of radio-controlled, bucket-headed robots led by Landau. Add to that the typically horrible laff-track and you get a movie that's so insultingly inane that you can't believe your eyes -- it makes that original series look like Beckett. Chewing on broken glass is more fun.

© 1988 by Steven Puchalski.