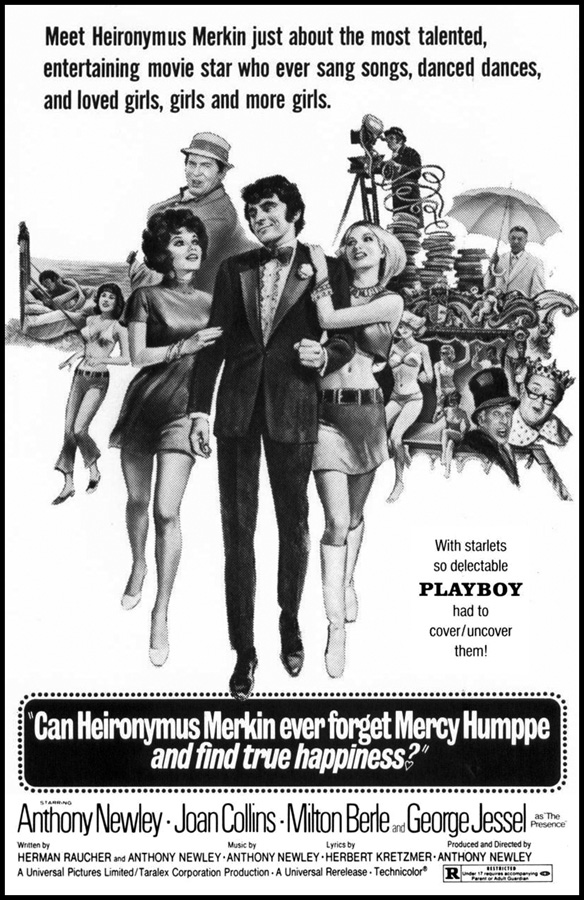 Nowadays, it's not uncommon for a popular acting-celeb to stretch their talents by directing, with indie results such as Steve Buscemi's TREE'S LOUNGE or Sean Penn's THE INDIAN RUNNER. In earlier days, this type of career egotism went more lovably unchecked, and here's a perfect example. Directed, co-written and starring Anthony Newley (of THE GARBAGE PAIL KIDS MOVIE "fame"), this deliciously wrongheaded, vanity production is a Fellini-esque, psychedelic-musical-fantasy-biography, sprinkled with enough Broadway-style-indulgence and cheap T&A to look like ALL THAT JAZZ's slow-witted, untalented cousin. Originally rated X (but now pretty tame), auteur du jour Newley plays a womanizing film director who has hit his 40th birthday. Sitting in the middle of an empty seaside, accompanied by items from his past, a film crew, and his young children (played by Newley's off-screen kids), Merkin re-examines (and re-lives) his life, loves, and misspent youth. Little Merkin begins as a Vaudeville-driven child, only to have the devilish Eddie Filth (Milton Berle, initially seen in horns and furry Pan legs) teaching him the joys of sex, until he has a line of willing-women queued up at his bed. Merkin eventually encounters Polyester Poontang (Joan Collins, who was not only Newley's wife at the time, but didn't yet look like a Madame Tussaud's exhibit), who seduces him during an ill-conceived,
Zodiac-inspired musical number. Merkin also divulges the truth about his only true love, the virginal Mercy Humppe (1969 Playboy Playmate of the Year Connie Kreski), with this Lolita-esque nymph seduced by Merkin after a carousal ride and lascivious tune ("Sweet Love Child"). In addition to colorfully-named conquests like Filligree Fondle and Trampolena Whambang, the script takes the gigolo idea to its surreal limits, when poor, schlong-exhausted Merkin has a (symbolically-faceless) automaton doubling for him during casual sex. Admittedly, its movie-within-a-movie framework was extreme for the time, with Newley (in shadow) playing his own director, while the on-screen crew attempts to figure out an ending for this movie (hint: They never do, and neither did Newley). In supporting roles, George Jessel pops in-and-out as "the Presence"; Stubby Kaye is a writer; while Victor Spinetti turns up as a bitchy film critic. Meanwhile, Milton nails his oddball role, from heading up a black mass to dosing Merkin with a pharmaceutical "trip". The film's biggest liability is Newley himself, who has the sex-appeal of a Reno lounge lizard, contributes several painful songs, and gives his own bare-ass far too much screen time. Even more debilitating, the movie loses its loopy edge whenever it believes its own sentimental self-importance. Still, this is a one-of-a-kind goulash -- a must-see for counterculture-masochists (like me) who often need a fix from this indulgent era.

© 1999 by Steven Puchalski.