HIGH SCHOOL NARC (1985).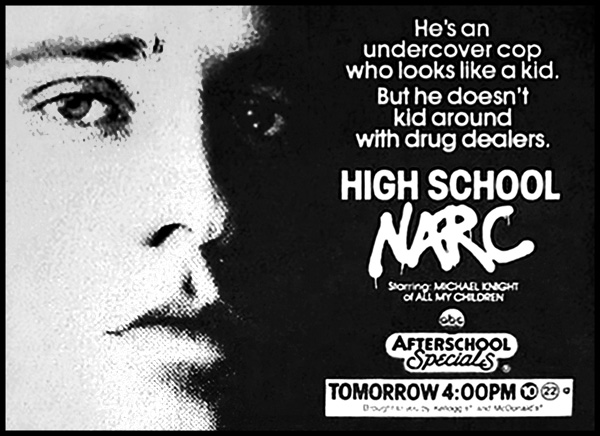 Premiering in 1972 and still popping up as late as 1995, ABC's Afterschool Specials offered a welcome reprieve from the usual mix of weekday soaps and game shows. Though often outlandishly preachy, they also provided work for a lot of up-and-coming actors, as demonstrated by this precursor to 21 JUMP STREET, in which a youthful undercover cop poses as a student and sniffs out drug dealers. Michael Knight (DATE WITH AN ANGEL) plays the title role of police detective Andrew Porter, who slips on a sleeveless denim jacket and returns to high school to investigate a recent influx of drugs. Teenage Judy (Nancy Travis) leaps at the opportunity to give this dreamy newcomer a tour of the school, and soon Porter is hanging out with all of her stoner, burn-out pals: Don Harvey as Kevin, Greg Germann (ALLY McBEAL) as Billy and, best of all, Viggo Mortensen as Tim, who sports mirrored shades indoors and sleeps through class. Porter's cover is always on the verge of being blown though, since this straight-arrow refuses to get high, isn't responsive when horny Judy puts the moves on him and continually gets the stink-eye from creepy Billy -- until Porter cuts a big coke deal with him, in hopes of ferreting out their distributor. All of the actors are a decade too old, but director Claude Kerven keeps the teleplay by Craig Storper (who later penned the gay-themed Scott Baio Afterschooler, THE TRUTH ABOUT ALEX) well paced, rarely veers into campy territory and tries to scare 4 p.m. viewers straight with a downbeat finale. Knight is terribly bland (no surprise, he wound up doing soaps), Germann makes a convincing douchebag who sells drugs to grade-schoolers, method actor Viggo looks legitimately toasted, and Travis transcends the ham-handed "Just say no" agenda with a nicely nuanced performance. Additional "adult" roles include James Handy as Lieutenant Bingham, Richard Bright as a detective and Michael Wincott playing Porter's real-life roomie... Also from director Claude Kerven is the 27-minute, NYC-lensed CANDY STORE (1980), with 27-year-old James Russo (who also wrote the script!) making his screen debut as slow-witted Joey, who runs a neighborhood candy store/luncheonette along with older brother Sal (John Descano). What begins as a simple slice-of-life (Joey lays out the day's newspapers and gabs with a regular customer) shifts gears when Sal abruptly closes the store for the day. It seems that he owes 3G's to some local goons and when they show up at their apartment, Sal nearly shits his pants, while innocent Joey cares more about the Yankees game on TV. Joey might not fully comprehend what's going on, but in the end, he's a hell of a lot tougher than anyone expected. Made with the assistance of New York University and an AFI production grant, this slight but potent tale of crime, violence and the depths of brotherly love features cinematography by John Foster (who more recently shot Lodge Kerrigan's KEANE) and unsettling use of Brian Eno's "Music For Films" and Fripp & Eno's "An Index of Metals." But this is primarily Russo's show, delivering a startling performance years before his scene-stealing gigs in BEVERLY HILLS COP, THE COTTON CLUB and EXTREMITIES.

© 2011 by Steven Puchalski.