HOW COME NOBODY'S ON OUR SIDE? (1975).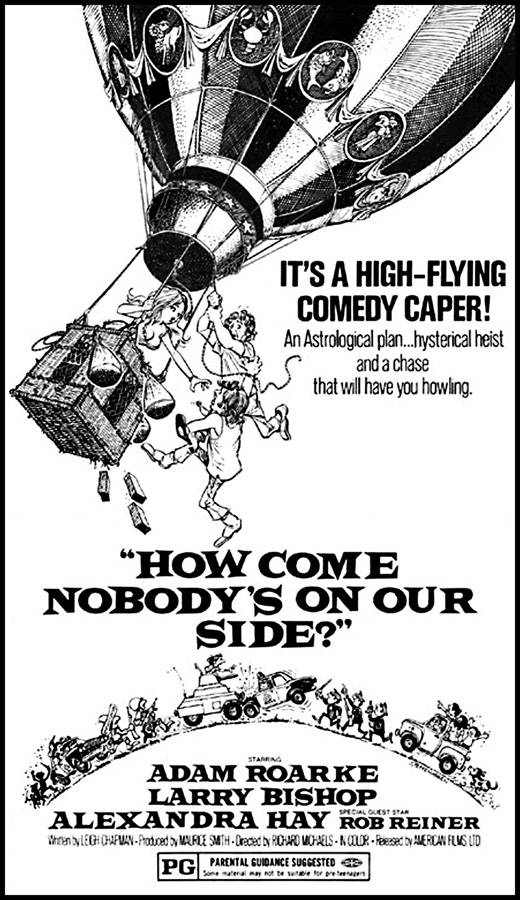 In my 15 years of film-zines, I've reviewed just about every biker movie ever made. I didn't think I could actually despise one of these lovably anti-social flicks -- that is, until I encountered this comic offshoot, starring two of the genre's mainstays, Adam Roarke (HELL'S ANGELS ON WHEELS, HELL'S BELLES) and Larry Bishop (who, besides being Joey's kid, turned up in flicks like ANGEL UNCHAINED). 84 minutes have rarely seemed so eternal. Made in 1972, but released three years later, after the genre had nosedived, Roarke and Bishop are type-cast as, respectively, Person and Brandy, two B-movie actors who're sick of their el cheapo biker movie gigs and boring lives. Stealing two cycles from the set, they split on a much-needed road trip, decked out like their grubby on-camera characters. But first, they make a pit stop for the only good scene in the entire movie, when the unshaven guys scam their way into a theatre that's showing a biker movie double bill which includes THE SAVAGE SEVEN (in which both actors actually appeared). It's all downhill from there, as we join these dullards (who're definitely low a quart in the braincell dept.) on their anemic adventures. Broke and bored, these dimwits tool around California, get their choppers busted up by a half-pint trucker, have real bikers laughing at them, and meet up with Alexandra Hay (Jackie Gleason's daughter in SKIDOO) as Person's sexy sis, who's smarter than both guys combined. It eventually turns into a full-blown caper movie when the scruffy pair shave off their beards, pose as cops and smuggle grass over the Mexican border (buried in horseshit, mind you). Along the way,
a (fully-haired) Rob Reiner turns up as a south-of-the-border dope dealer named Miguelito, with Penny Marshall (who also had a small role in THE SAVAGE SEVEN) as his ditzy squeeze. While it's cool to see Roarke and Bishop in top-billed biker roles, the end result goes straight into the shithole after 15 minutes, and the moment they steal a tank, it careens over the insufferably-wacky borderline. Given the on-screen talent, you'd think director Richard Michaels (longtime asociate producer of the TV-series BEWITCHED, who had an affair with Elizabeth Montgomery and helped break up her marriage) and scripter Leigh Chapman (DIRTY MARY CRAZY LARRY, THE OCTAGON) could concoct a more memorable story, but they're even more lost than their actors. Obviously, Roarke and Bishop want to be the Hope & Crosby of grass-smuggling biker-wannabes, but they're actually more insufferable than Lenny & Squiggy. Hard to believe, it makes their previous drive-in fare look like Palme d'Or winners.

© 2000 by Steven Puchalski.