HOW TO SUCCEED WITH SEX (1970).
Throughout the 1950's and '60s, director Bert I. Gordon kept moviegoers amused with B-movie fluff like EARTH VS. THE SPIDER, ATTACK OF THE PUPPET PEOPLE and VILLAGE OF THE GIANTS, but radically shifted gears with this misguided attempt at a raunchy, mainstream, X-rated sex-comedy. It's utterly braindead, thoroughly misogynistic and, despite all of its bare flesh and endless discussions about sex, lacks any genuine eroticism, with most of its episodes played for limp laughs. Thankfully, this nonsense is kept to a merciful 73 minutes. Perpetually-horny Jack (Zack Taylor) is engaged to a cute blonde (Mary Jane Carpenter), but his ditzy virgin fiancée refuses to put out until they're married. Frustrated, he looks for answers in an adult bookstore's self-help guide entitled "How To Succeed With Sex" -- with its passages narrated by comedian (and voice of Saturday morning TV's PAC-MAN) Marty Ingels, who's credited as "fatherly advice." Since Sandy won't go all the way, blue-balled Jack decides to spend his last remaining days of bachelorhood screwing every woman he can. And since this is an alleged comedy, the results are often unsatisfying. When he isn't having a major freak-out in a porn theatre, Jack picks up a slutty one-night-stand (Luanne Roberts) who's intrigued with his high-tech videotape equipment, only to have it short circuit and broadcast their schtupping throughout the neighborhood. He also enjoys some sailing and topless sunbathing with Shawn Devereaux, and shares a bong with a lovely hippie chick (Victoria Bond) at her groovy pad. In fact, women are literally stripping off their clothes in front of him, such as buxom brunette Bambi Allen (SATAN'S SADISTS). Alas, every time Jack tries some new approach to finally get into Sandy's pants,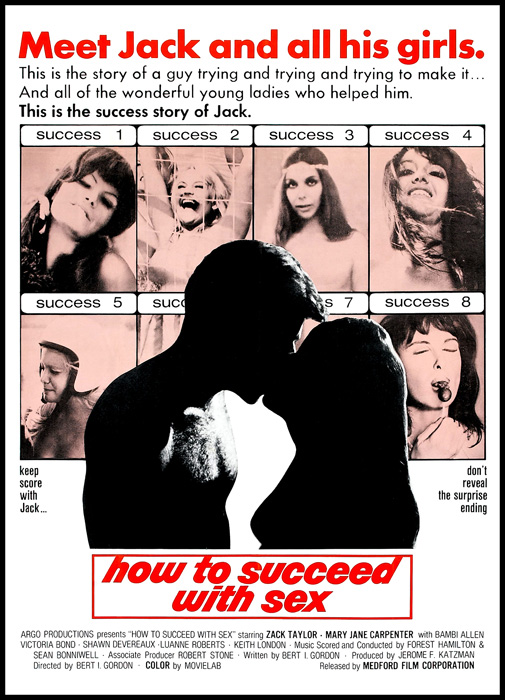 it backfires -- complete with a painfully-obvious final twist. Gordon tries to liven things up by inserting kinky, quick-cut photo-montages and tinted fantasy sequences, as well as a goofy, grass-induced operating-room-castration nightmare, but it only makes the end result a bigger mess. Taylor (in his screen debut and, no surprise, only starring gig) is forgettably generic, Carpenter's uptight role lacks the twisted edge of her 1970 teen-psychopath-incest romp JANIE, but I'm sure Gordon had a blast casting this flick, since all of the women are extremely hot (and a world away from today's skeletal excuses for sex symbols). Meanwhile, its clunky soundtrack tunes (including "The Fairest Hands") are provided by The Music Machine's Sean Bonniwell and Stax Records' executive Forest Hamilton.

© 2010 by Steven Puchalski.