HUMAN HIGHWAY (1981).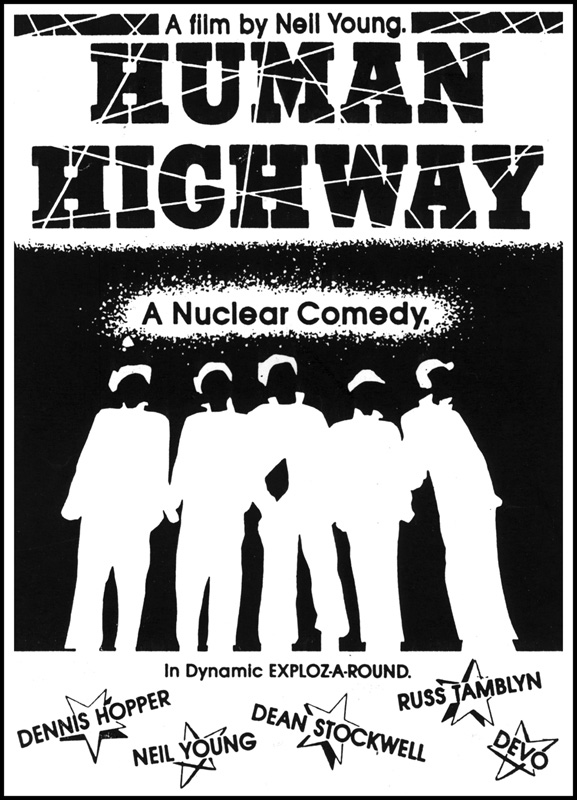 Hey folks, it's "I've got a mess o' dope, let's make a movie" time! And only minutes into this fried flick, I was asking myself, what the HELL did I stumble upon/ Directed by Neil Young (under the pseudonym Bernard Shakey, and with Dean Stockwell helping him out), this is a nuclear 'comedy' (I use the term loosely) starring an overdose of then-unemployable acidheads -- a stellar cast of misfits/friends with virtually nothing to do... The setting is Otto's. a grubby roadside diner located on the outskirts of Linear Valley, the proud home of the Cal-Neva Nuclear Power Plant. Don't worry about the occasional waste slippage though. It's an everyday occurrence, especially when a glowing Devo (with tubes inserted up their nostrils) is the Radiation Disposal Team. At the diner we encounter the rest of our cast: Dennis Hopper is a psychotic cook named Crackers; Sally Kirkland is a beleaguered waitress; Dean Stockwell is the new owner, Young Otto (son of the late Old Otto); plus Neil Young and Russ Tamblyn are frighteningly convincing as two noodle-headed gas pump operators, Lionel and Fred. In other words, everyone's a blithering atomic-age ninny. As far as the story goes, Stockwell wants to torch the eatery for the insurance bucks, while the neighboring nuke plant is on the verge of detonation. But primarily, everyone just stumbles around in a daze, in hopes that the viewer will get a Contact High. See an irradiated Devo ride around in a pick-up truck!
Watch Russ wash a windshield! Gasp in awe as Hopper feeds his pet raccoon! Witness Stockwell absconding with breakfast sausages! Neil even pumps a bit of gas! Part fantasy, part social commentary, part slapstick comedy, and ALL so incredibly pathetic it's funny. Soon the plot veers into complete unintelligibility when spaceships begin flying about, buses being disappearing, Dennis pops up in a second role (as an exec in a leopard skin convertible), and the Vegasized Frankie Fontaine pulls up in his white limo. There's even a live music sequence with Neil as The Singing Mechanic (for once looking like himself, instead of a Hee Haw reject). In other words, this is a first class mess!! Along the ride there's some wild visuals, a couple great songs (Neil jams with Devo on "Hey Hey My My", and I LOVED the finale of "It Takes a Worried Man", featuring the entire cast dancing with shovels), plus a few hilarious bits are scattered about (if you're attuned to their warped wavelength, that is). On the other hands, a few (long) portions are abysmal! And you mean this was NEVER distributed?! Gosh, I can't understand why!... At the very least, this proves Neil won't sing for Bud, but he'll certainly make unwatchable films with all his pie-eyed pals. What a bafflingly wondrous piece of freaked-out trash! Sure, by normal standards, the movie sucks, but it's a Mutant Must-See for Rock-'N'-Schlock Completists.

© 1989 by Steven Puchalski.