INCHON (1982).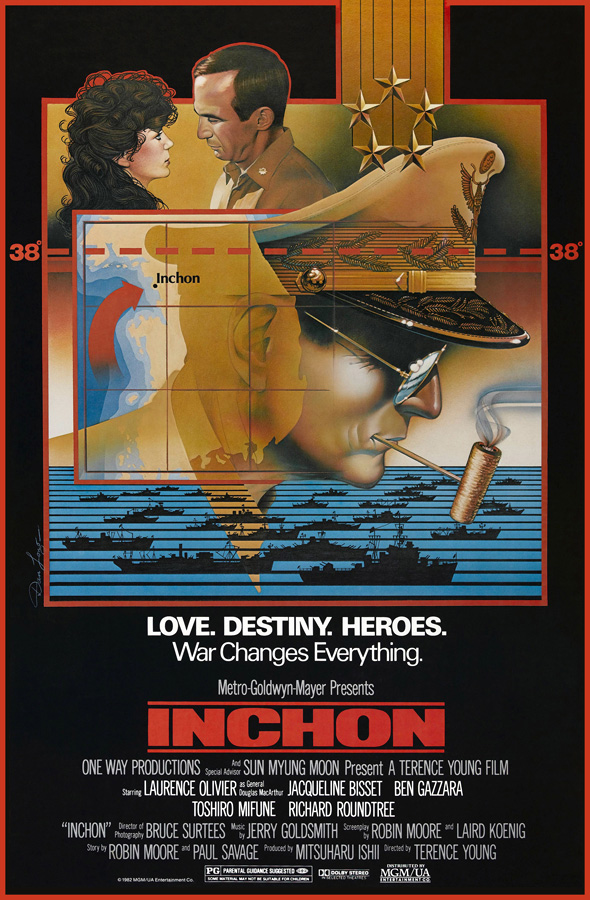 In the summer of 2001, PEARL HARBOR was denounced as one of the most insipid war films ever made. That might be true, but I doubt any of these critics ever suffered through the utter foolishness of INCHON, Reverend Sun Myung Moon's overblown tribute to the 1950 U.N. operation (led by Gen. Douglas MacArthur) that repelled a North Korean invasion into Seoul's port of Inchon. This $48 million production took more than a year to film, and then grossed a whopping $150,000! The producers certainly sucked a lot of talent into this epic-sized turd. Behind the camera was director Terence Young (DR. NO) and scripter/novelist Robin Moore (THE FRENCH CONNECTION), while its inept scenario is acted out by Jacqueline Bisset, Ben Gazzara, Kurosawa-vet Toshiro Mifune, David Janssen as a cynical journalist, fruity Rex Reed playing a prissy reporter, plus SHAFT himself, Richard Roundtree! And who would be your most misguided choice to play the macho MacArthur? How about short, frail, 73-year-old Sir Laurence Olivier! But first, let's triple-coat his face with pasty make-up, dye his hair jet-black and grease it to a hard sheen, and give him a comb-over that begins an inch above his ear. Back then, Olivier was constantly signing onto dreck like THE BETSY and THE JAZZ SINGER, but this is unquestionably his most pathetic paycheck. Following a brief intro to the origins of the Korean War, this invasion begins, with Bisset and Gazzara playing an estranged couple. He's currently hot for a young Korean cutie, whose papa is played by Mifune. Separated by these evil Red Army war mongers, soldiers Gazzara and Roundtree dress up as Korean peasants in order to lead undercover raids,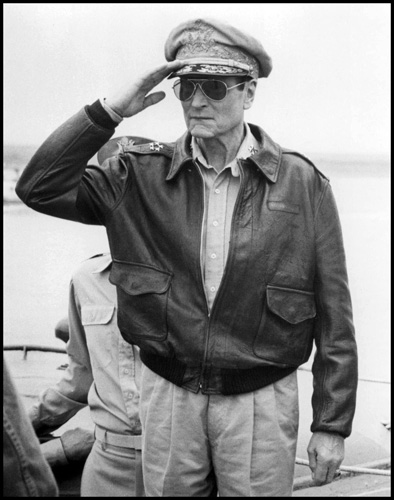 while Bisset (wearing a low-cut summer frock, of course) tries to make it to safety and ends up playing mom to a carload of 'adorable' Korean children. Soon MacArthur is brought in to save the day, and when Olivier struts around with his corncob pipe, oversized General's cap and sunglasses, "America's greatest soldier" looks more like George Burns playing MacArthur for a Bob Hope special. As he plans his defense, Gazzara and Bisset re-ignite their romantic sparks -- just in time for Ben to ditch her again for a pivotal mission that'll insure the Good Guys' success at Inchon and a puke-inducing patriotic epilogue. Released in the US at 106 minutes, with Janssen's role deleted after his 1980 death, my copy turned out to be the original, overbloated 138-minute cut! The B-movie battle scenes are impressive in scale, with lots of tanks, planes and soldiers, but they lack dramatic weight. Of course, the film is as unapologetically anti-North Korean as any old WWII flick was anti-Nazi, as the vile Commies slaughter innocent women and children by the dozen. The actors are surprisingly earnest in the face of such hokum, and most of the cast was paid in cash, since the budget was funneled through Moon's Unification Church (still, few admit to ever knowing that the project was directly connected to this self-confessed "messiah"). Meanwhile, Moon's loyal followers were ordered to praise it to no end (shades of BATTLEFIELD: EARTH!). This is a sad and stupid movie, full of cornball good intentions by its Korean backers, but devoid of entertainment value -- that is, unless you're turned on by slumming actors and interchangeable battle scenes.

© 2001 by Steven Puchalski.