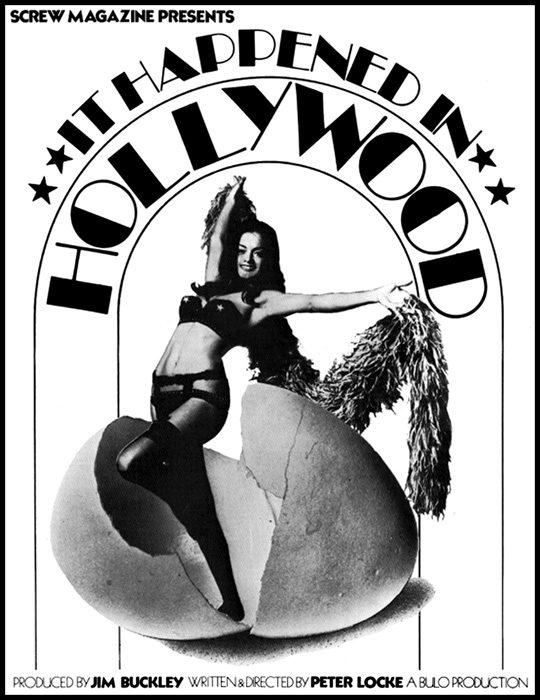 During Porn Cinema's '70s-infancy, enterprising filmmakers were always looking for the next big thing (a la DEEP THROAT), which could convince mainstream moviegoers that watching 20-foot-tall genitalia next to some masturbating wino was a progressive new way to spend an evening. Produced by Screw Magazine founders Jim Buckley and Al Goldstein, this 35mm feature was slightly more ambitious than most mutton-flogging fare, thanks to a comparatively-huge cast (wow, ten people on the screen!), the occasional 'funny' sight-gag, and some original non-wakka-chikka music (the theme song "Porno Queen" is sung by Liz Torres, a.k.a. Miss Patty on GILMORE GIRLS). Felicity Split (Melissa Hall) has an overwhelming dream to become a sex-film super-starlet, and she certainly has the enthusiasm for the job (though not the body; she's vaguely cute, but scrawny with flapjack tits). Her boyfriend Elliot (mustache-free Harry Reems) buys her a bidet (that licks her pussy clean) and as an after-meal treat she blows him at the dinner table, followed by some nude 69'ing on their sofa (I'd be scared to see that piece of furniture under a CSI black light). After convincing talent agent Peter Pull (Marc Stevens) of her skills, the road to adult stardom awaits, and everyone digs Felicity -- during a photo shoot, even the make-up girl has sex with her. Her big break comes when she lands the lead role of Delilah in a $4 million Bible-porn epic (which the filmmakers promise will end up in Cannes). This 'blockbuster' is a rather sad and stagebound endeavor,
but we do get a raunchy appearance from young Al Goldstein, who plays a High Priest and receives a graphic on-screen blowjob from "Tanya Tickler." Elsewhere in this schtupperama, Delilah searches for the strength-origins of Samson (who talks like John Wayne and fucks to "Hava Nagila"). Despite its 'Hollywood' title, all of the film was shot in NYC, with much of it at a long-renovated East Village theatre space on East 12th Street and 2nd Avenue. Although slightly kitschier than the usual raincoat-crowd dreck, this is still far, far from any semblance of art. Befitting a Screw offshoot, it boasts a little crude-'n'-weird humor (e.g. a guy cums while on the phone with Felicity, and fake-jism spurts out of her receiver), but even as the ever-smiling Ms. Hall works hard to keep us hard, most of the cast isn't much to look at. Finally, several of its credits are more interesting than the actual film. One of its two assistant directors was Wes Craven, who also edited the flick and plays one of the King's masked (and thus, impossible-to-spot) Litter Bearers. Director Peter Locke later produced Craven's THE HILLS HAVE EYES, and art director Peter Bramley was also the first art director for National Lampoon magazine. I certainly hope they all got laid. A lot.

© 2007 by Steven Puchalski.