IT'S A BIRD, IT'S A PLANE, IT'S SUPERMAN (1975).
Back in 1966, Harold Prince's musical adaptation of SUPERMAN boasted songs by Lee Adams (BYE BYE BIRDIE) and Charles Strouse (ANNIE), and lasted on Broadway for only 129 performances. Nine years after its demise, ABC aired this truncated, 89-minute, cheapjack abomination, and it's easy to understand why the network buried it in an 11:30 p.m. timeslot. Eliminating many of the original songs, it has crude pasteboard sets, looks as if they couldn't afford second takes, and was shot-on-video, back when that cut-rate alternative really looked like shit. After quickly regurgitating his origin (with his rocket ship labeled "Contents: One Innocent Babe"), we head to Metropolis, where Superman (charisma-challenged David Wilson) stops crime while keeping his Daily Planet day job as Clark Kent. Lesley (Ann) Warren is a sexy (and seemingly lobotomized) Lois Lane, who barely notices Clark, yet pines for Superman. But in a strange move, the story focuses as much on the supporting lunks as our title hero: Kenneth Mars is Planet columnist Max Mencken, who despises Superman; Loretta Swit is reporter Sydney Carlton, who tries to seduce Clark; and instead of an all-singing, all-dancing Lex Luthor, we get 4th-rate scientist Dr. Abner Sedgwick (David Wayne). There isn't much of a plot. Some klutzy gangsters (including HAPPY DAYS' Al Molinaro, Harvey "Eric Von Zipper" Lembeck and Malachi Throne) sing an off-key tune about their plan to rub out Superman, while Sedgwick lures Sup into a trap involving the world's cheesiest looking "Death Ray" and plots with Max to disgrace the hero. Others roped into this fiasco were PASSWORD-host Alan Ludden as Perry White, Danny Goldman as a Jimmy Olsen-style flunkie, and Gary Owens as our narrator. Going from bad to worse, Lois wonders if she's falling for forgettable Clark (complete with a ballet-fantasy-housewife dance routine), as the whiny Man of Steel wallows in psychological problems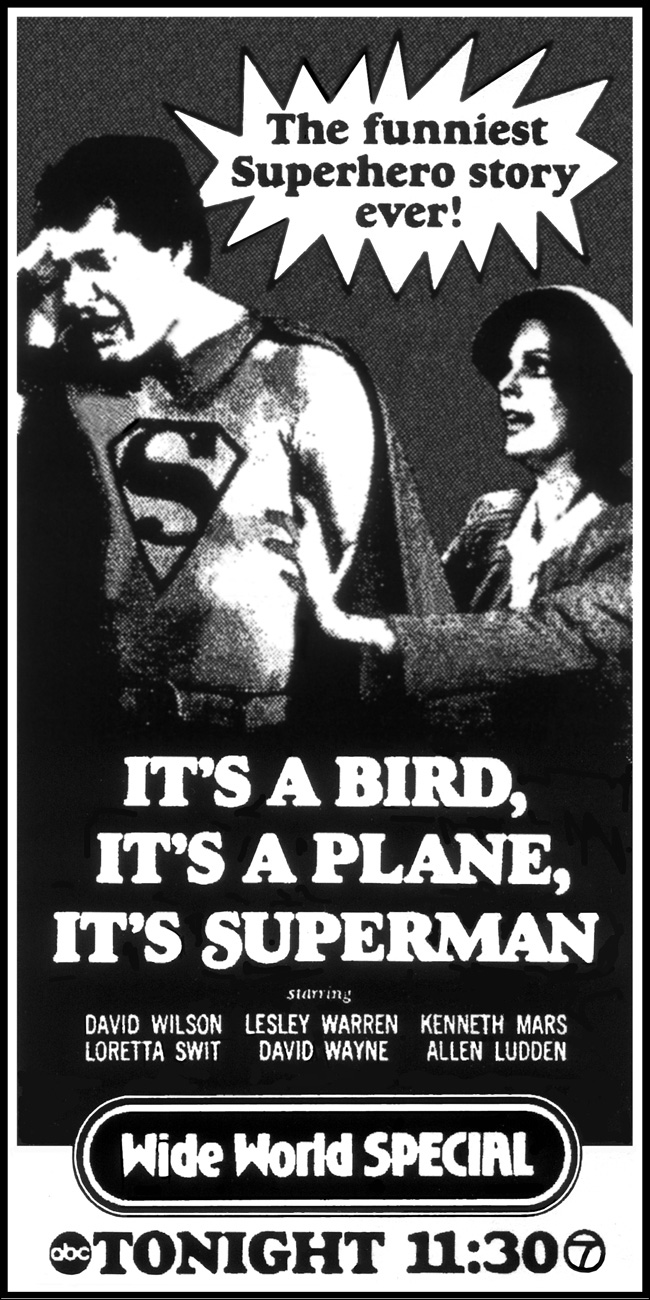 ("I don't deserve love!" he confesses). Loosely based on the book by David Newman and Robert Benton (who also co-wrote Chris Reeve's SUPERMAN), and adapted by Romeo Muller (who scripted most of Rankin-Bass' animated Xmas specials), the only moment that comic fans might appreciate are two guys named Jerry and Joe (a wink to Superman-creators Jerry Siegel and Joe Shuster) who urge Sup not to be so "uptight." The cast desperately overplays their one-dimensional roles, there's horribly flat direction by Jack Regas (who'd later helm ELECTRA WOMAN AND DYNA-GIRL and THE BAY CITY ROLLERS SHOW), any choreography is laughable, and most of its paltry budget was spent on breakaway props and walls. The title says it all. It is a bird. A dead, mildewed turkey.

© 2004 by Steven Puchalski.