KONA COAST (1968).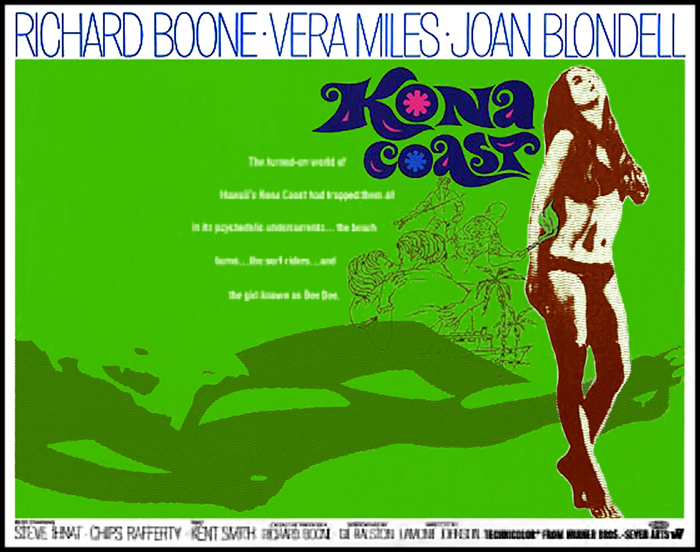 Richard Boone traded in his HAVE GUN - WILL TRAVEL Colt Single Action Army revolver for shorts and a tan in this Hawaii-lensed CBS TV-pilot, which ended up taking a theatrical route instead. Based on a script concept by hardboiled crime novelist John D. MacDonald, initially entitled "Bimini Gal," a father hopes to avenge his daughter's death in this exotic thriller released just before HAWAII FIVE-0 introduced primetime viewers to these islands (less than a decade after becoming our 50th state). Harlan Ellison was initially hired by director Lamont Johnson (THE LAST AMERICAN HERO) to flesh out MacDonald's outline and even began work on its screenplay -- only to get tossed off the project after Ellison and executive producer Boone butted heads, with only Harlan's opening scene surviving. Well, it's a damned fine sequence, oozing with intrigue and creepy vibes, as well as writhing dancers, psychedelic lighting, heroin, a disoriented young beauty, plus a nefarious fucker who orders, "Take her to the playroom!" Unfortunately, it's all pretty routine from there on, with the screenplay ultimately credited to Gil Ralston (WILLARD)... Set around the seaside town of Kailua, on the western edge of the Big Island, Boone plays grizzled charter boat Captain Sam Moran, a typical MacDonald hero -- tough, pigheaded, hard-drinking, and (inexplicably) adored by the ladies. When Sam's daughter turns up dead in the surf, with track marks down her arm, he's determined to find her killer. He's soon beaten up, his boat is torched,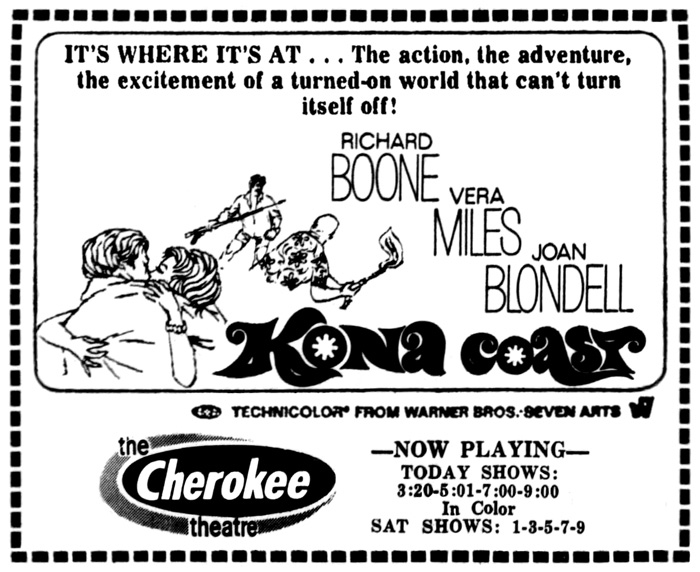 his best friend (Early Aussie Cinema icon Chips Rafferty) becomes collateral damage, and the hackneyed script loses its way. Throughout it all, the audience is fully aware that the murderer is a wealthy, sadistic, "lousy faggot" named Kryder, played for maximum creepiness by Steven Ihnat. Ultimately, Kryder tries to silence Sam by luring him to a deadly luau, but when the truth comes to light, Moran and his pals put the screws to Kryder's goons. Alas, it's too little, too late to rescue this middling endeavor. Boone (who owned a beach house on the Kona Coast and had called Hawaii his home since the mid-1960s) seems somewhat out of place, but is adequate enough in the generic role, while the supporting cast includes Vera Miles as Sam's old sweetheart; Joan Blondell turns up as his friend's sister, Kittibelle; Gina Villines is a bikini'ed damsel in distress who Sam plucks out of the ocean; plus look for '50s/'60s guitarist Duane Eddy ("Rebel Rouser," "Because They're Young") as Tiger Cat. But the big scene-stealer here is Ihnat, who appeared in TV-fare like STAR TREK, THE OUTER LIMITS and MISSION: IMPOSSIBLE, but died in 1972 at the age of 37. It's one of his most colorful, wildly over-the-top roles, but he disappears far too often. The film is punctuated by crappy melodrama, overstuffed with outlandish island stereotypes, while the picturesque color cinematography by Joseph LaShelle (LAURA, THE APARTMENT) captures lots of seedy local color. It's a curiosity, but not a particularly memorable one.

© 2013 by Steven Puchalski.