LOVEDOLLS SUPERSTAR (1986).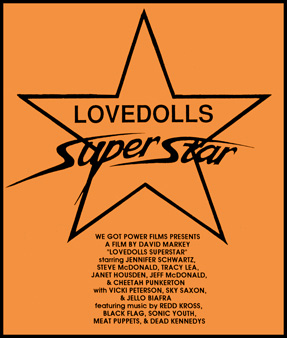 Looking for one of the greatest music industry movies of the last decade? No, not CAN'T STOP THE MUSIC, you morons (though it's a close call)! It's this home-brewed mind-melter from David Markey -- the follow-up to his even-cruder DESPERATE TEENAGE LOVEDOLLS. This time around the satire is sharper, the dialogue more riotous, its targets more pompous and deserving of a kick in the head, and the camera even stays in focus most of the time!... Just in case you missed it, the first film dealt with the ragtag formation of an all-girl band, The Lovedolls (sort of a vomit-rock Go Go's), their trip to the top of the charts, and plummet back into oblivion. As our sequel begins we learn that lead vocalist Kitty Carryall (Jennifer Schwartz) has become a boozy has-been, Alexandria (Cheeta Punkerton) is a Hollywood Boulevard whore, and Patch Kelly (Janet Housden) now leads a commune of burn-outs and has changed her name to Patch Christ. And when they decide to stage a comeback of the notorious Lovedolls, they do it the easy way -- by violence, coercion and gang-knifing record company execs. This is solid, broken-bottle-in-the-face satire (one of my favorite types), incorporating great scuzzy locales and loads of abrasive subplots. There are kidnappings by religious pitchmen, an attack by a demonic Gene Simmons doll, suggestions on how to eliminate mindless fans (with a nod to Jim Jones),
and even a plot to assassinate Bruce Springsteen (and ain't it about time somebody did?) during a perfect parody of Bruce's/DePalma's ultra-irritating "Dancing in the Dark" video. But the altogether freakiest moments are courtesy of Steve McDonald, who deserves a belated Oscar for his spastically wondrous performance as Rainbow, the twin brother of the Lovedoll's stinkweed ex-manager from the first flick (Remember? The girls killed him). Imagine Crispin Glover stuck in the middle of Billy Jack's Freedom School, complete with wall-to-wall Peace 'N' Love bullshit... Including a cameo by Jello Biafra and music by Redd Kross, Markey has churned out a hate-filled, drug-drenched and completely believable (yeah right) portrait of stardom. I only hope he eventually makes it a trilogy.

© 1991 by Steven Puchalski.