THE NAKED APE (1973).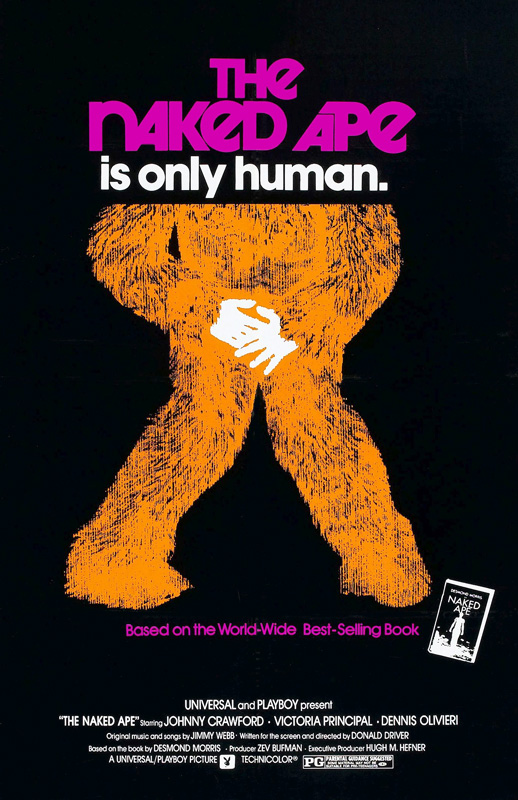 Long considered a 'lost' title by cult movie aficionados, this Playboy-produced adaptation of Desmond Morris' 1967 pop-zoology bestseller has finally surfaced. But don't get your hopes up, folks, because I still remember trying to watch this box-office dud as a teenager when it turned up on pay-cable. I was bored senseless by its convoluted, heavyhanded and, worst of all, tame (PG!) story, and it certainly hasn't improved with age. This haphazard project lacks structure and imagination, mixing inane episodes and animated segments into a 'hip' analysis of humankind's ancient sexual urges. Ex-Mouseketeer, actor (the son on THE RIFLEMAN) and singer ("Cindy's Birthday") Johnny Crawford stars as Lee, an average modern man who, despite centuries worth of evolution, is still a "naked ape" grappling with his baser desires. A pre-DALLAS Victoria Principal co-stars as fellow college student Cathy, and (no surprise) Lee instantly goes ape for this mini-skirted, go-go-booted cutie in his "Erotic Poetry and Prose" class. After perusing a paperback of The Naked Ape, he goes on the prowl, complete with gooey lovesick antics, beach frolicking and the occasional leaden fantasy -- while the filmmakers concoct any excuse to compare human mating rituals with those in the animal kingdom. Surreal bits are shuffled throughout, such as a caveman gawking at a modern city or a discussion of monkey orgasms in the midst of a wedding ceremony, but we're also forced to suffer through unnecessary crap like a long scene of male gymnastics. Normally, this type of approach would earn it spontaneity points, but instead of embracing its inherent goofiness,
first-(and-last)-time director Donald Driver is instead determined to revel in some misguided notion of 'artistic sexual investigation' (without showing any actual sex, mind you). Along the way, animated passages -- courtesy of Murakami Wolf Productions (THE POINT) and director of animation Charles Swenson (DIRTY DUCK) -- are used to illustrate sexual give-and-take prehistoric style, as horny cavepeople lust after one another and hunt for big game. Also look for QUINCY's Robert Ito as a Japanese warrior, and MAGNUM P.I.'s John Hillerman as a smug draft induction psychiatrist. A train wreck on every level, it combines vapid lead characters, stale insights, sappy Jimmy Webb tunes, cinematography by the versatile (and in this instance, in desperate need of a paycheck) John Alonzo, and a painfully ponderous self-importance. Never so wrongheaded that it becomes masochistically amusing, THE NAKED APE proves that some MIA films deserve to remain that way.

© 2005 by Steven Puchalski.