THE SECRET LIFE OF PLANTS (1979).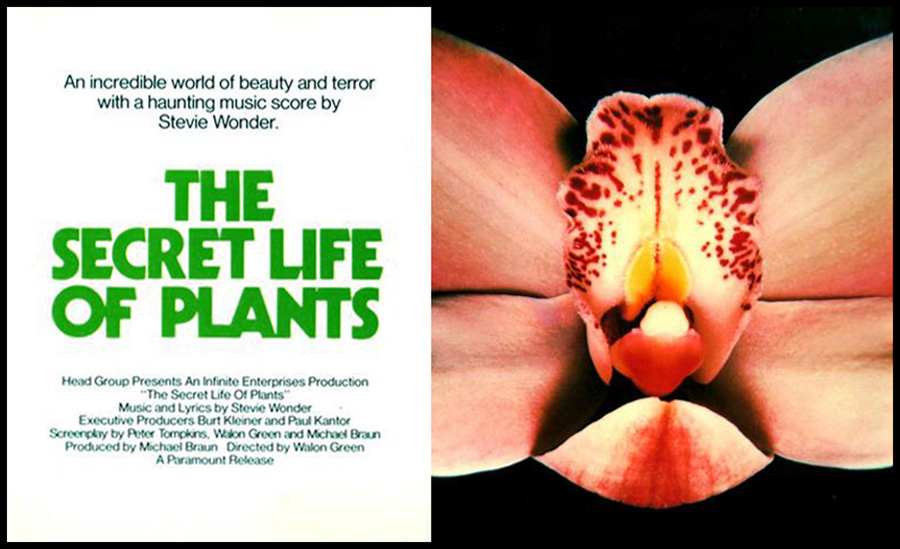 It's difficult to believe that Paramount once considered this G-rated, pseudo-science plant-documentary one of their prestige releases of the year, before saner heads prevailed and this lumbering mess was essentially shelved. Based on a book by Peter Tompkins (who also liked to write about Egyptian obelisks) and Christopher Bird, this revels in New Agey beliefs (Plants feel pain! They experience emotions!) that had no connection to scientific facts, and nowadays, is best known for Stevie Wonder's double-disc soundtrack, which reached #4 on Billboard's Rock and R&B Charts. On the positive side, the film is sprinkled with cool visuals to watch while baked!... The first few minutes play out like a precursor to KOYAANISQATSI, with dizzying cloud patterns, crashing waves and rivers of lava mixing with Stevie's experimental score. Unfortunately, once the droning narration intrudes on this brief but groovy trip, it's all downhill, as we're listlessly lectured about plants' importance, Calcutta's Bose Institute and George Washington Carver, amidst microscopic, time-lapse photography of plants sprouting and flowering. In San Diego,
we visit the makeshift lab of crackpot Cleve Backster and his long-refuted 'galvanic skin response of plants' experiments (or how plants are adversely affected by the death of some nearby Sea-Monkeys). But the biggest yahoo of all is L. George Lawrence, who's spent too many years alone in the desert researching plant "bio-communication" and receiving messages from outer space. During goofy international segments, a Japanese woman tries to teach her cactus the alphabet by converting a plant's electrical output into sound, Russian 'scientists' prove a cabbage can think after a monitor reacts to a "comrade" cabbage being chopped up, and experts in parapsychology boast of how groundbreaking their work will be someday. (Tick...tick...tick...) There's also sped-up highway and city footage; farmers, old women and hippies discussing how their plants respond to them; George Harrison's "Here Comes the Sun" played while plants bloom; plus a ludicrous modern dance solo performed in a burnt-out, abandoned tenement and choreographed by Tony winner George Faison (THE WIZ). Seven years earlier, director Walon Green (who earlier co-scripted THE WILD BUNCH) won an Oscar for his insect-warning documentary THE HELLSTROM CHRONICLE, so why not quadruple the Bullshit Quotient and see if lightning strikes twice? It didn't! In fact, this nutjob tribute to the "perfect monitors of Earth... enduring for millennia amidst the chaos of the human condition" is so unflinchingly idiotic that it often resembles a segment of the BBC science-spoof LOOK AROUND YOU. The final scene has Stevie wandering deserts, forests and fields of sunflowers in a flowing robe, crooning the theme song. It's a very pretty music video. As for the rest of the film? Hogwash.

© 2011 by Steven Puchalski.