DEATH GAME [a.k.a. The Seducers] (1977).
First off, I love it when a movie boldly announces at the beginning that it's based on a true story, and you KNOW it's all a crock of shit! From this pic's sing-songy theme "My Good Old Dad" to its out-of-the-blue finale, it's a completely warped project from director Peter Traynor. Not just in its bizarro plot, but in its hyper-surreal handheld camerawork and rapid fire incomprehensible editing. Of course, the cast is a major plus too, featuring Sondra Locke (Clint Eastwood's old squeeze, and director of schlock like RATBOY and IMPULSE), Method thespian Seymour Cassel (obviously longing for his days of artsy projects, like Cassavetes' MINNIE AND MOSKOWITZ and FACES) and the luscious Colleen Camp (a fave character actress of mine from the early '70s, who popped up in everything from Jack Hill's THE SWINGING CHEERLEADERS and Michael Ritchie's SMILE, to APOCALYPSE NOW and VALLEY GIRL). In other words, I truly love this twisted tale of seduction, sadism and (physical and mental) domination...It begins when middle-aged familyman Cassel is left alone for a night, and gets to fulfill a fantasy when two sexy young ladies show up at his door, soaking wet and lost. Of course, since Seymour is a gentleman (yeah, right) he lets the two cuties in, gets them out of their wet clothes, warms 'em up with hot chocolate, and finally gets pulled into a bathtub menage a trois. The REAL fun begins when Seymour has to pay the price for his dalliance -- because Sondra and Collen are actually DERANGED LESBIAN MURDERESSES!! And when the next morning comes, they won't leave! Cassel gets a tad nervous when they begin shoveling down their breakfast with their bare hands, trying on his wife's clothes, and even threatening him with jailbait rape charges. But he hasn't seen nothing yet! Wait until they tie him up,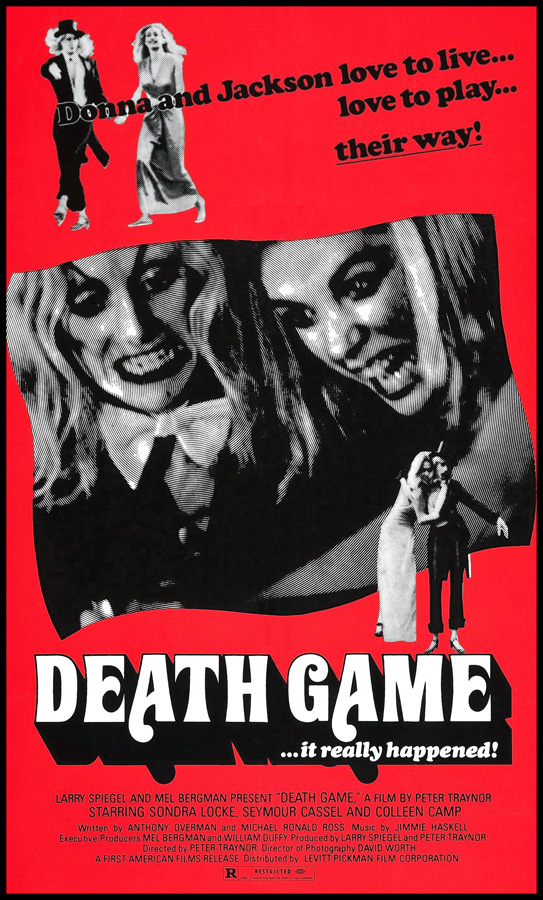 spread hideous make-up over their faces, and destroy his suburban dream home, with Camp reliving her incestuous past by calling Seymour "Daddy". Soon the entire place becomes one big madhouse, with Cassel's wet dream turning into a nightmare. This flick is one long, trippy escapade which, though amateurish on the surface, has a core of dementia that sets it apart. Locke and Camp are a wild pair, portraying two of the craziest, hottest, psychobitches in sexploitation history. And they play their roles to the hilt -- breaking furniture, playing dress up, pummeling Seymour, having food fights, and turning into cruel, horny children in search of cheap kicks. And since Cassel's such an unlikable bastard, there's no sympathy for this guy's plight. Sure, you can argue that this film is crude and slapdash, but it has a disturbing, corrupting allure that I found compelling... Trivia note: Jack Fisk was a production designer and his wife Sissy Spacek a set dresser.

© 1992 by Steven Puchalski.