ONCE UPON A SPY (1980; Cinefear).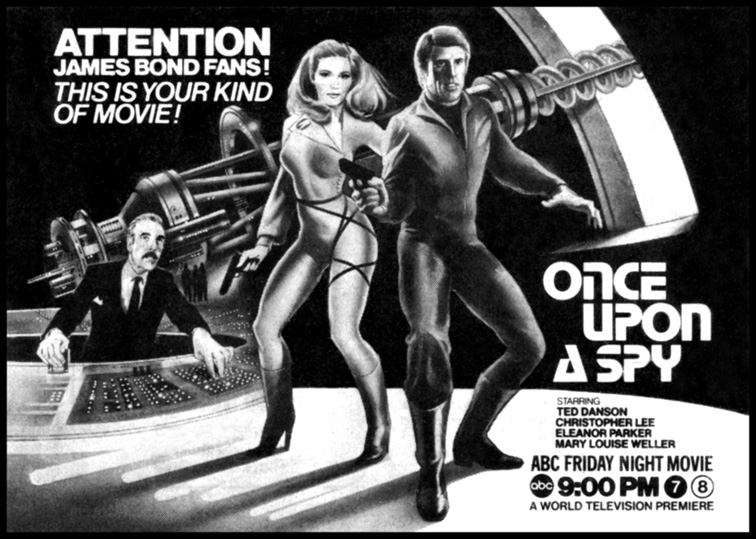 Ted Danson has enjoyed a healthy run on television -- with gigs on CHEERS, BECKER, DAMAGES, and now toplining C.S.I. -- but his life might've taken a very different turn if this early-in-his-career, made-for-TV sci-fi silliness had spawned a full-fledged series. Instead of winning a pair of Emmys, Danson could've been the next Lee Majors or David Hasselhoff, while contractually-trapped in a colorful but misguided, primetime, James Bond knock-off... 32-year-old Danson stars as government computer genius Jack Chenault, who's pushed into his first field assignment when NASA's gigantic, satellite-tracking mega-computer is somehow stolen. Mary Louise Weller (ANIMAL HOUSE's Mandy Pepperidge) is Paige Tannehill, a US super-agent who's blonde, beautiful, lacks any discernible acting ability, and is assigned to "babysit" Jack. Best of all, the mastermind behind the theft is Christopher Lee's reclusive millionaire Marcus Valorium, using a cosmic shrinking ray and a kidnapped scientist (Leonard Stone, WILLY WONKA's Mr. Beauregarde). Our mismatched pair eventually parachutes into Valorium's HQ, with the combination of Jack's smarts and Paige's spy gadgets hopefully saving the planet (even as our handsome brainiac slowly charms his initially-antagonistic female partner, naturally). Meanwhile, Lee is a riot in his sleek,
high-tech, missile-equipped, motorized chair -- imagine Blofeld in a tricked-out Little Rascal -- with megalomaniacal plans for "an orderly new world" that kick off by transforming an aircraft carrier into an Aurora model kit... Danson seems to understand the ridiculousness of this gig and plays our reluctant hero with an off-hand charm. On the other hand, Weller is stiff and lacks sex appeal, even when poured into a skin-tight, low-cut jumpsuit for the finale. Eleanor Parker (CAGED) co-stars as The Lady, their boss, while Lee's cushy role has him planning to shrinky-dink the Earth's most important sites, barking orders at uniformed minions and never even having to stand up! Admittedly, I might've loved this hokey shit when I was 8-years-old, but while fleeting moments hold some camp value (e.g. trippy opening credits, Valorium's groovy labyrinth for his captives), the script by Hammer alumnus Jimmy Sangster (HORROR OF DRACULA) goes flat too early and relies on GET SMART-style gags, like entering a top-secret facility via a 'Tunnel of Love' ride. Despite flacid direction from (convicted bookmaker, Heidi Fleiss associate and alleged call-girl ring operator) Ivan Nagy, the production design is often surprisingly sumptuous, so obviously some coked-up network executive had high hopes for this thing.

© 2011 by Steven Puchalski.