STEAMBATH (1973).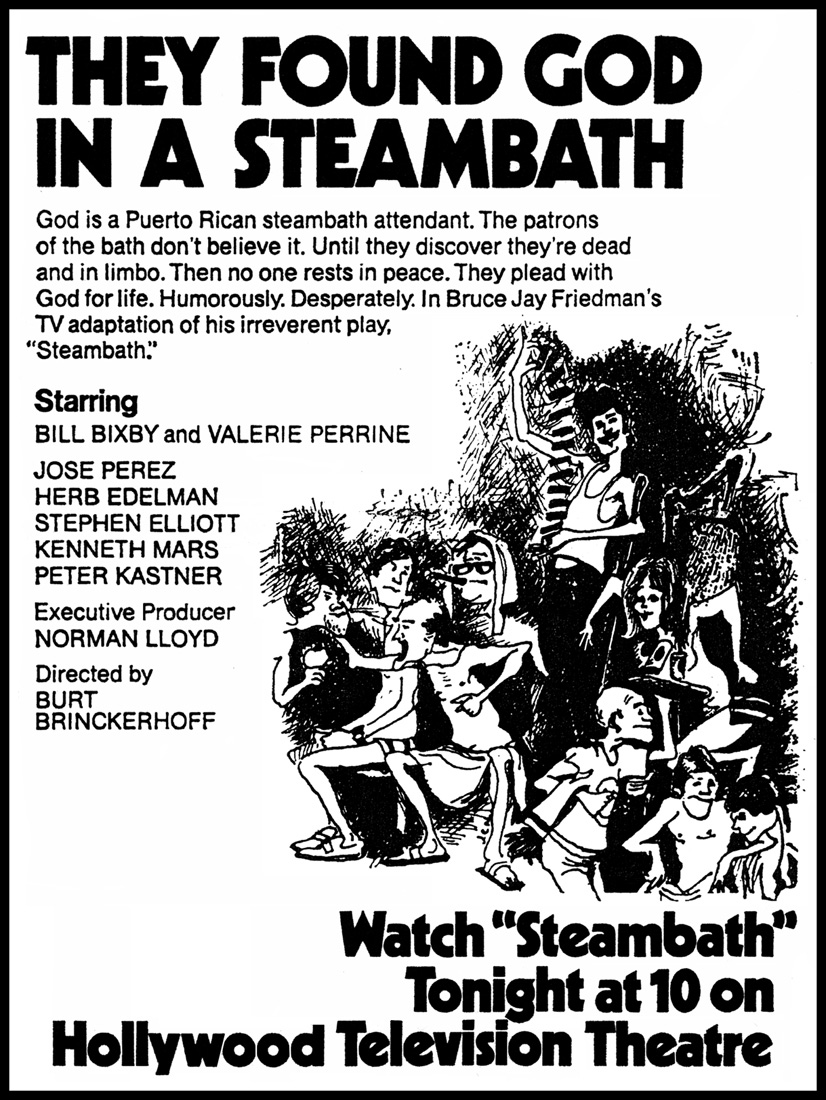 Adapted from the Off-Broadway play by Bruce Jay Friedman (The Lonely Guy's Book of Life) and premiering on PBS over 25 years ago, I first saw this brilliant show when I was only 13 years old, and even then, wondered how such a sexy, funny, thought-provoking work slipped past the censors (who usually grind original ideas into an oatmeal-like mush). Even more than its radical themes and language, what made this so memorable was its prime-time, puberty-inducing nudity from a pre-LENNY Valerie Perrine. Set entirely inside an old-school steambath, pre-INCREDIBLE HULK Bill Bixby shows off his passable acting chops as Tandy, a teacher-turned-writer who (absurdly) taught Art Appreciation at the Police Academy. A newcomer to this place, Tandy gets an earful from old-timer Stephen Elliott and hygiene-challenged Herb Edelman, plus two self-described "fags" who break into song 'n' dance. Events get increasingly surreal when Kenneth Mars shows up as a stockbroker (with his own Dow Jones display), while Ms. Perrine is the lone female at the bath and spends much of the movie with a carefully-positioned towel draped over her bare breasts. Director Burt Brinckerhoff (before moving onto TV-slop like ALF) keeps the production simple, with one location, a handful of characters and one similar plight: They're all dead! Yes, this steambath is a waiting room for the afterlife. So where's God?
He's the Puerto Rican bath house attendant (Jose Perez) who, when he isn't mopping the floors, is feeding random Acts of God into an R2D2-sized, beeping computer. Despite God's skill at card tricks, Tandy is skeptical of his fate, and as each character describes how they died and passes through the steambath's exit, the stubborn and unfulfilled Tandy continues to argue his case before this streetwise Supreme Being. This type of allegory about Death and God might not be as startling as it was 30 years ago, when it first premiered on stage (with Hector Elizondo as the Almighty), but the writing is sharp, the cast is more than capable, and it's often weird as hell. Bixby delivers his (arguably) finest performance as the pompous lead, Perrine is likably ditzy and undraped, while the supporting cast gets the choicest moments. Reveling in deep philosophical issues, amidst unexpected humor and pathos, this is a one-of-a-kind work that deserves a fresh look.

© 2000 by Steven Puchalski.