TONIGHT FOR SURE (1962).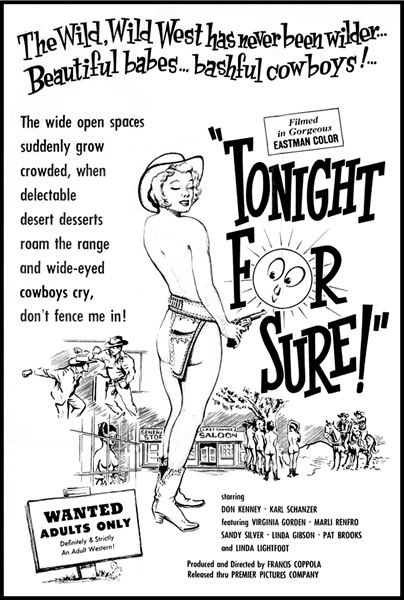 Now that Francis Coppola has turned into a total hack, with studio slop like the Robin Williams fiasco JACK, I figured it was time to reach back into his shadowy past and pluck out this sexploitation comedy that he helmed at the tender age of 22, when his mind was clearly on baser human instincts -- namely, nekkid women and making a quick buck. Clocking in at just over 60 minutes, this clinker is both boring and utterly undistinguished, without a hint of experimentation which might've made the outing unique. And believe it or not, viewing it is almost as painful as Coppola's stupefying "Life Without Zoe" segment of NEW YORK STORIES (one of my grimmest moments of moviewatching in the last decade)... Set on the Sunset Strip, this is the inane tale of two moralistic males who decide to fight against the increasing tide of vice by blowing up a nudie nightclub. One's a western bumpkin who rides into town on a burro, the other's a city slicker, and as their time bomb ticks away, they sit in the nightclub and exchange stories about the evils of sin and lewd women (of course, while they're gabbing, the burlesque babes are strutting their stuff on stage behind 'em). The cowboy explains how one friend had terrifying delusions that every woman around him was naked (if only I could have such terrifying delusions). The other is a closet lecher who preaches morality as an excuse to play voyeur with a nude model. No subtlety here, folks! The men are slobbering fools, the women are busty fleshpots, the attempts at humor are deadening, and the entire budget is less than what Coppola spends nowadays on a week's worth of cannolis... On a positive note, Francis at least found some attractive young women to play the scenery and lingers appreciably on their wares. But down deep, this is just another middling example of "Here's the film, where's my goddamned paycheck?" sexploitation, which was good for a quick playoff to the raincoat brigade. Starring Karl Schanzer and Donald Kenney, with feeble photography by director-to-be Jack Hill (FOXY BROWN) and music by "Carmen" Coppola.

© 1991 by Steven Puchalski.