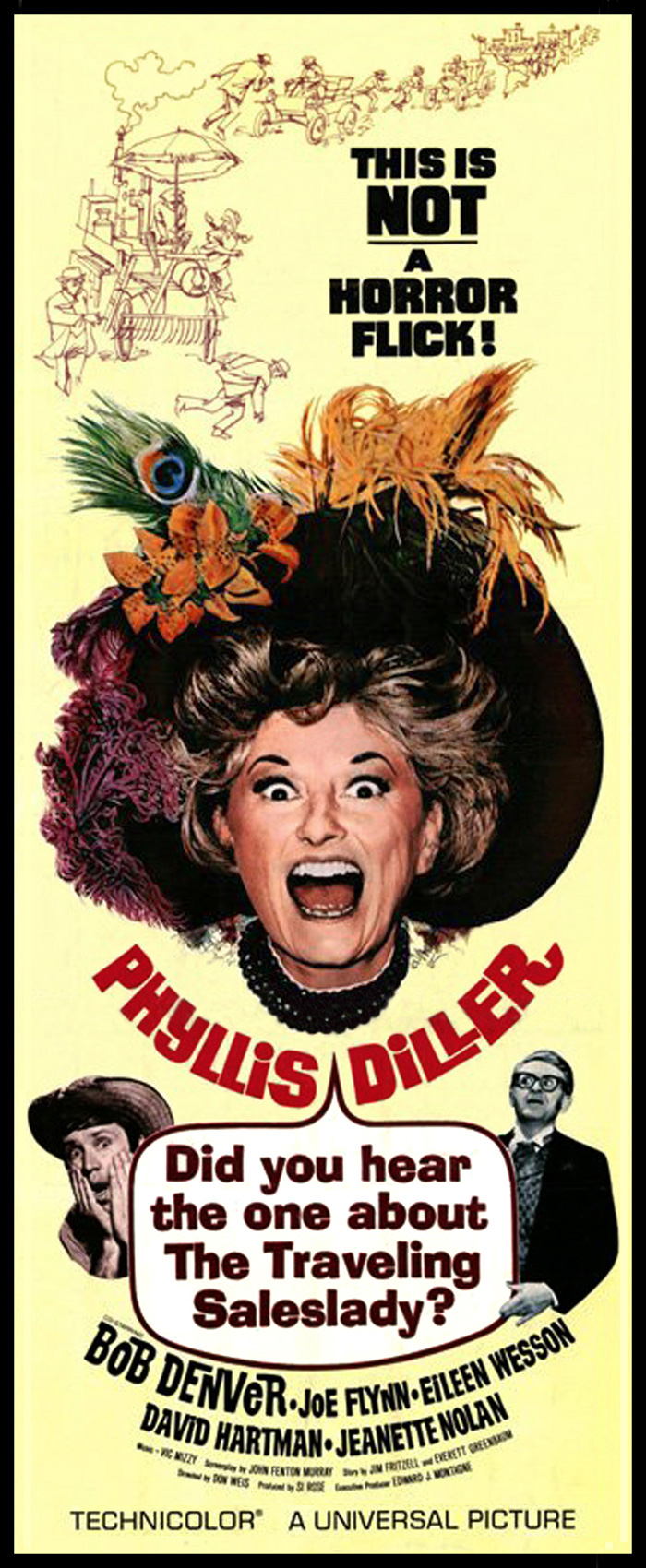 Phyllis Diller was a television fixture throughout the 1960s, but her big-screen choices left a lot to be desired. There was THE FAT SPY, EIGHT ON THE LAM, PINK MOTEL, and Diller even ditched her wild-haired stand-up persona for the 1969 adaptation of Elmer Rice's THE ADDING MACHINE, but the film was barely released to theatres. One of her rare top-billed roles was in this colorful period-comedy, which only ends up proving that a little of Diller's grating schtick goes a long, long way. It's an excruciating 94 minutes, and never remotely weird enough to even classify as a guilty pleasure... In 1910 Missouri, the studio-backlot town of Primrose Junction has a brash new arrival in traveling saleslady Agatha Knabenshu (Diller), who's peddling player pianos, hauls around a full-sized sample model and shocks the puritanical citizens with her garish wardrobe and brazen behavior. Fresh off of GILLIGAN'S ISLAND, Bob Denver plays Bertram Webb, a klutzy local "genius" prone to blowing up his family's barn with home-made inventions like a wood-burning automobile. When Bertram offers to help out Agatha with her unwieldy piano, the instrument predictably ends up demolished (complete with hoary slapstick chaos, like Diller riding the runaway piano throughout town). In order to pay for all of the damage they caused, the pair combine their half-dozen working brain cells and decide to win the cash at the upcoming county fair, with untrained Agatha driving Bertram's makeshift car in a tiresomely 'wacky' climactic race. There's even a dopey love potion deus ex machina to handily wrap everything up... Here's an example of the film's humor: Agatha raises her skirt above the knee in hopes of attracting a man, but instead spooks a nearby horse, which gallops off in the opposite direction. Because Diller is so ugly... Get it?... Then this exact same gag is recycled three more times! Diller's character is obnoxious and insulting, cackles at her own shitty jokes, and unsuccessfully hits on every man in sight, from perpetually-flummoxed bank manager Joe Flynn
(McHALE'S NAVY) to hunky farmhand Kent McCord (ADAM-12). Also onboard this interminable trainwreck are David Hartman as the gullible town Constable; generically pretty but emotively one-note Universal contract player Eileen Wesson as Bertram's sweetie; and Charles Lane plays Agatha's grumpy employer. Director Don Weis was best known for episodic TV work -- helming hit shows like IRONSIDE, FANTASY ISLAND and CHiPs -- but his theatrical work was bland, derivative fare like THE GHOST IN THE INVISIBLE BIKINI, PAJAMA PARTY and this rubbish. Meanwhile, scriptwriter John Fenton Murray gives this film the same level of wit and sophistication that he would later bring to episodes of Sid & Marty Krofft's SIGMUND AND THE SEA MONSTERS, THE BUGALOOS and LIDSVILLE. Its only saving grace is a typically bouncy score by Vic Mizzy, who created the theme songs for THE ADDAMS FAMILY and GREEN ACRES.

© 2020 by Steven Puchalski.