TROPICAL SNOW (1988; Just For the Hell of It).
Although its US ad campaign made this cautionary melodrama -- primarily shot in Bogota, Colombia, and revolving around desperate, drug-smuggling lovers -- look like any run-of-the-mill, wait-a-week-and-it'll-be-on-VHS fluff, writer-director Ciro Durán brings an understated, effectively bleak approach to this potentially exploitable material. And while the production's most marketable star, David Carradine, only has about 15 minutes of actual screen time, its two young leads are surprisingly credible, including a young, unknown Madeleine Stowe in one of her earliest big-screen gigs. Shot in 1986, Stowe was cast in the Richard Dreyfuss/Emilio Estevez box-office hit STAKEOUT only a couple months later... Marina (Stowe) and Gustavo (A NIGHTMARE ON ELM STREET's Nick Corri) dream of someday ditching Bogota's rampant crime and squalor by going to America. Currently, both struggle to care for their families, whether it means stealing bags from gullible tourists or Marina getting manhandled by slimeballs during her waitressing day-job (that is, if jealous Gustavo's temper doesn't get in the way). Unfortunately, their harebrained scheme to stowaway on a flight bound for New York City -- sneaking onboard as custodial staff -- quickly goes sideways, with Gustavo tossed into a grim Colombian prison. How much worse could it get? How about local drug scumbag Oskar (Carradine) recruiting them to fly into the US using forged passports, with their stomachs crammed with cocaine-filled balloons... Though never particularly original, this is an effectively gritty potboiler, with Durán putting his lengthy documentary experience to good use for his first scripted,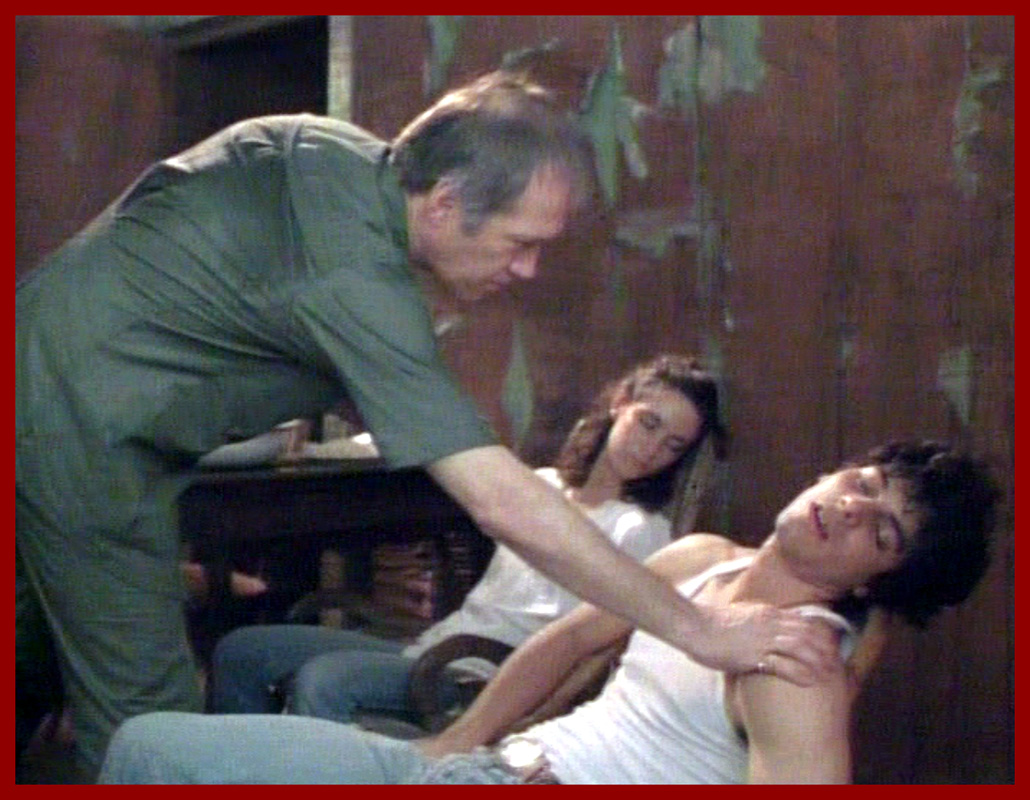 English-language feature. Maintaining a serious tone throughout, he captures the poverty and despair of his home turf, while demonstrating how prostitution, crime and drugs could seem like the only way to succeed, with cinematography by future Oscar nominee Eduardo Serra (GIRL WITH THE PEARL EARRING). Durán also makes a few commercial concessions. Carradine (and his hokey accent) pops in for a handful of scenes as Oskar enlightens our not-so-bright couple to the grim reality of becoming drug mules (while snorting his own product, of course). Plus there are scattered moments of overheated drama and lots of gratuitous nudity from both Stowe and Corri, since their randy characters always seem to find time to screw. But the final reel doesn't pull any punches, with everything that could possibly go wrong packed into its final 20 minutes and a wrap-up so unflinchingly downbeat that it's no surprise that this potent little film didn't get any traction in the US. Note: The IMDb lists this as Tim Allen's film debut, but while a "Tim Allen" is indeed credited as a NYC baggage handler, you'll be hard-pressed to actually spot the future HOME IMPROVEMENT star.

© 2021 by Steven Puchalski.