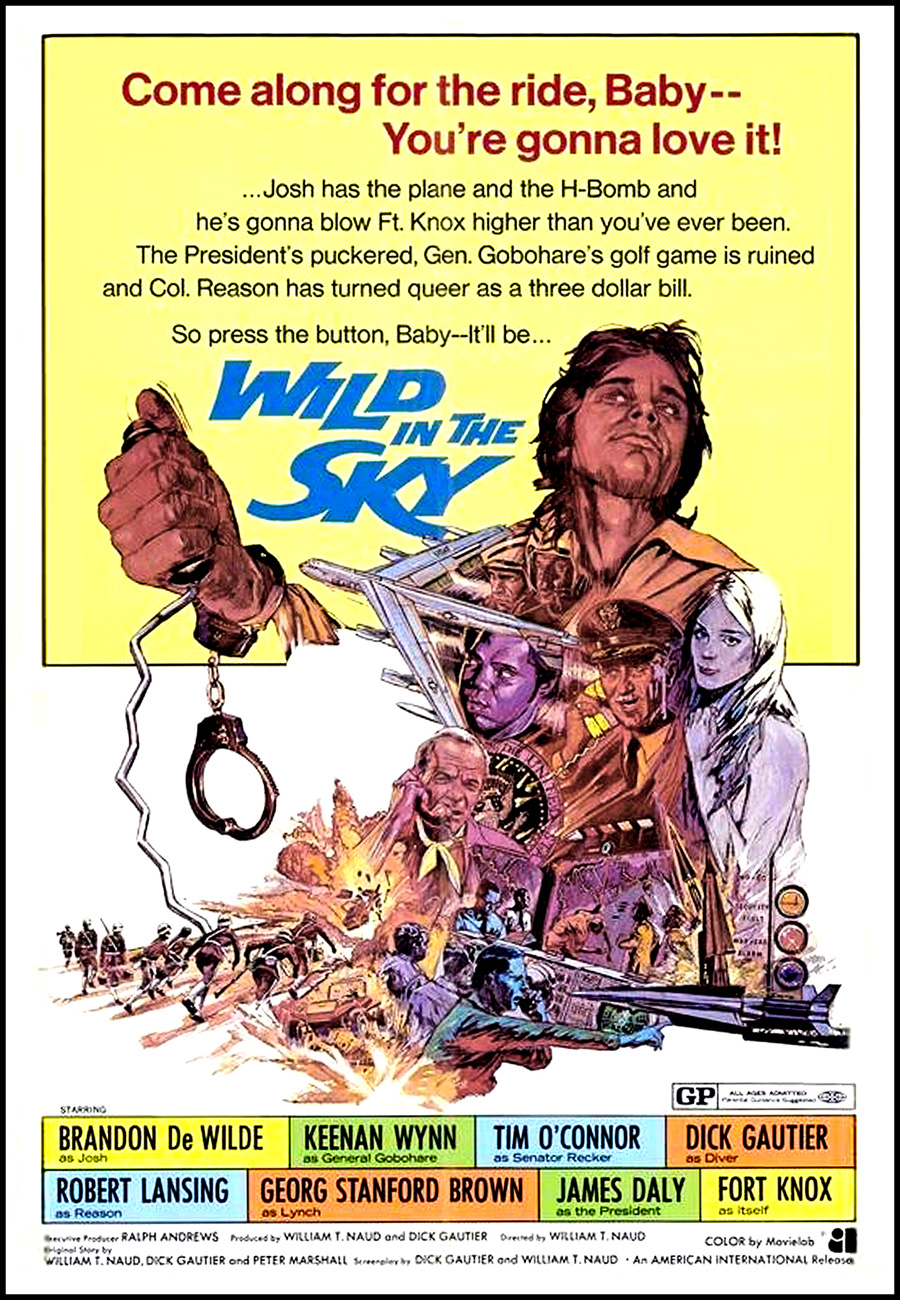 This obscure American International Pictures release was shot as GOD BLESS YOU, UNCLE SAM in late-1969, but didn't hit theatres until nearly three years later, under various titles and with ridiculously disparate ad campaigns. WILD IN THE SKY sold the film as a groovy action-thriller, BLESS THE BOMB appeared to be a "far out" farce and BLACK JACK -- capitalizing on 6th-billed Georg Stanford Brown's success on TV's THE ROOKIES -- looked like typical blaxploitation (with AIP double-billing the film with BLACK CAESAR for its New York City run). So what exactly is this thing? An awkward blend of limp counterculture trappings, underbaked comic ideas and floundering character actors, which fails on almost every level... Draft-dodgers Josh (Brandon De Wilde, best known as the whiny li'l kid in SHANE), Woody (Phil Vandervort) and Lynch (Brown) are being driven to prison when their good-ol'-boy police escort (Dub Taylor) makes a piss-stop, gets knocked into an outhouse's shithole and the trio escapes. Not the brightest fugitives, the threesome avoids capture by sneaking onto an Air Force base in the middle of the night and hiding inside a B-52 bomber equipped with a Hydrogen Bomb. Once in the air, our stowaways take the crew hostage and arm this nuke, but don't have any concrete plan about what to do next. Meanwhile, Keenan Wynn's bombastic general (who has misappropriated millions of dollars for his own personal golf course) attempts to cover up this snafu. DR. STRANGELOVE, it ain't... Sluggishly directed by William T. Naud
(whose only previous features were the '60s auto-racing cheapies HOT ROD HULLABALOO and THUNDER IN DIXIE), its convoluted script -- credited to Dick Gautier (GET SMART robot Hymie) and Naud, with HOLLYWOOD SQUARES host Peter Marshall receiving a story credit -- is peppered with broad slapstick, clumsy misunderstandings and leaden satire. On the upside, it includes plenty of familiar faces as supporting government and military officials, most of whom are either blithely self-serving or thoroughly incompetent. There's Larry Hovis (HOGAN'S HEROES) and Jack Riley (THE BOB NEWHART SHOW); Robert Lansing is a major onboard this hijacked flight; Tim O'Connor is a pissed-off senator; James Daly (father of Tyne Daly and then-current father-in-law of Stanford Brown) plays a macho, bullshit-spewing US President who tries to negotiate with these "adolescent twerps"; while the only intermittent chuckles originate from the B-52's eccentric flight crew, consisting of Gautier, future LOVE BOAT physician Bernie Kopell and Joe Turkel (THE SHINING, BLADE RUNNER) in a refreshingly comedic change of pace. On the other hand, Stanford Brown plays all of this pseudo-absurd nonsense totally serious, but his one-note 'angry black dude' is still far less grating than his conflicted peacenik cohorts. Unfortunately, top-billed, 30-year-old De Wilde (who died in a Denver camper van accident a few months after this chaotic mess was finally released) is utterly forgettable in his final screen appearance.

© 2021 by Steven Puchalski.